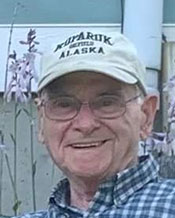 Thomas Felton Martin, 84, of Hyde Park, VT, passed away on Friday, July 23, 2021, due to complications from open heart surgery at UVM Medical Center.
Thomas was born in Boston on May 6, 1937, to Anne and Francis Martin. His younger years of education were spent in Sudbury and Duxbury, MA. He was raised in Waitsfield, VT, and contributed to the new build and home of Tucker Hill Lodge. He attended Proctor Academy and during those years he became well known as captain of the ski team and excelled in his love for the slopes as a high jumper. He married Nancy Corwin Nichols on October 5, 1974.
Known in Waitsfield for building several houses at a young age, he continued his love for architectural design by starting his own business, TF Martin Design, which would last 35 years until his death. Thomas also took much pride in renovating his family's home. He was passionate when it came to his business and enjoyed each of his clients.
His early love for building cars blossomed, earning him the Fisher Body Craftsman Guild first-place award for three years starting in 1956. His heart had always been with his dogs starting with Bent-Tail through Nimbus and Pepper. A man who had not learned to cry, it was his faithful Pepper who taught him. One of his greatest loves was being a father and grandfather.
He is survived by his wife, Nancy Corwin Nichols Martin of Hyde Park, VT; and his children, Steve Martin of Waitsfield, VT, Tony Martin and Connie LaRoche of Shelburne, VT, Heidi and Bryant Dembrosky of Chester Springs, PA, and Laurie Martin of Barre Town, VT. He also leaves behind his grandchildren, Kylie Saad, Layla Saad, Kaitlyn Dembrosky, Xavier Woogmaster, Pi Woogmaster and Meghan Dembrosky. He is predeceased by his parents and siblings, Peter, Nancy and Sandy as well as his daughter, Elizabeth Martin.
A Memorial Service will be held Saturday, July 31, 2021, at 1 p.m. at the Second Congregational Church, 26 Prospect St., Hyde Park Village, VT 05655. A Celebration of Life will follow at his home in Hyde Park. Graveside services in Fayston, VT, will be held at a later date.
Flowers may be sent to the Second Congregational Church or donations may be offered to Lamoille Valley Kennel, Morrisville, VT. The des Groseilliers Funeral Home is in care of arrangements. Online condolences and memories may be conveyed to the family at dgfunerals.com.