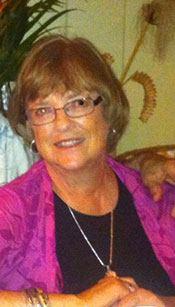 Elizabeth Woolley was born March 10, 1938, in Salt Lake City, Utah, to Fred E. Hilburn and Elizabeth Marie (Rigby) Hilburn. Elizabeth attended schools in Wilmington, DE, Hyattsville, MD, and the University of Maryland. She had worked as an assistant to oral surgeons in College Park, MD, and an assistant to a dermatologist in Manchester, NH. Her work as a guest service representative at Mt. Ellen provided good skiing and many new friends.
Elizabeth was a great mentor to her family and friends, providing love and guidance in traumatic situations. She was a friend to all, family, extended family and their friends. She had great pride in her many years as a NAMI volunteer, where she provided counsel and education to families of those with mental illness.
Elizabeth, also known as Bmom and Bess, was preceded in death by her daughter Donna J. Hinkle and son Lt. Commander Chet H. Woolley. Her memory will be honored with a Family and Friends Celebration at a later date. Her favorite charities were Boston Red Sox Jimmy Fund and Wounded Warriors.
She is survived by husband Craig S. Woolley, son Mark S. Woolley, daughter-in-law Suzanne Woolley, and six grandchildren, Brady Hinkle, Kaleigh Hinkle, Mercedes Woolley, Connor Woolley, Nigel Woolley and Liam Woolley.