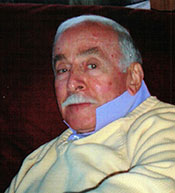 Paul Guttenberg passed away after a brief illness on August 16, 2021. Paul was born in New York City on January 4, 1927. He was the son of H. Morton and Pearl Rauch Guttenberg. They moved to Amsterdam, NY, where Paul attended Amsterdam Public Schools and graduated from Wilbur Lynch High School. After one year as an undergraduate at Union College, his education was interrupted prior to his 18th birthday when he enlisted in the U.S. Navy and was further assigned to the U.S. Marines. After a two-year stint in the Marines, he returned to Union to complete his formal education graduating with dual degrees in organic chemistry and psychology.
With college and military service behind him, Paul entered the family business, Mortan's, a fine menswear retailer located in Amsterdam. Under Paul's leadership the business was enlarged to include women and boy's clothing, becoming known as the area's leading clothing store. Being very community minded, he served on multiple bank boards as well as civic organizations (some as president) including the Chamber of Commerce of Amsterdam and the United Way. Paul was instrumental in attracting new industries and promoting tourism in the area. Paul was very proud to have been one of the Founding Fathers of Fulton-Montgomery Community College.
In 1990, Paul closed Mortan's and organized a financial restructuring company. He assumed the ownership of financially distressed manufacturing companies, successfully restructured them and ultimately sold them. Paul also founded a consulting firm working with financially troubled companies.
In 2007, Paul and his wife Susanne, who had experience as an administrator of one of the area's most successful nursing homes, assumed ownership of the financially troubled Montgomery Meadows, a 120-bed facility. After extensive restructuring and modernization, the facility was renamed River Ridge Living Center. It became a leading health care facility under their thoughtful management.
As one of the area's early pioneer skiers, Paul hosted a radio ski show for over 25 years with his friend and fellow skier, Fred Merchant. The show wasn't great, but they had so much fun.
Paul was passionate about his work and play. He loved spending time at his home in Vermont, skiing with his wife, children and lifelong friends. Paul also owned and enjoyed flying several pre-war airplanes, as well as sailing in Cape Cod and the British Virgin Islands. Somehow, he also managed to find time to be an avid reader.
In March of 1963, Paul married the love of his life, Susanne Riva, a beautiful, steely-willed gal who was always a match for Paul's powerful personality. To her credit, she did not flinch when he invited a few friends to join them on their ski trip honeymoon. They soon had four children who grew up in their sprawling fun-filled Broadalbin house. Paul is survived by his loving wife, his children Heather Loucks, Jason Guttenberg (Lois Albertin), Jill Brown (Peter), and Grant Guttenberg; their 11 grandchildren: Michael and Heather Reynicke, Alexander Loucks, Dayle and Griffin Guttenberg, Julia and Kristina Levigion, Courtney, Richard, Grayson and Gwenyth Guttenberg; and five great-grandchildren: Cloe, Julianna and Josephine Reynicke as well as Donovan and Anderson Daw. Paul was predeceased by his parents and his brother Dr. Mort Guttenberg.
Paul will always be remembered as an inveterate gentleman whose dapper elegance was unsurpassed. His greatest attribute was his kindness and generosity to his many friends and family and treating everyone he met with great respect. Many people sought him out for his extraordinary wisdom and guidance. Paul will be missed by all who remain, especially his wife of 58 years and his extensive family.
As Paul requested, there will be no calling hours, but friends are invited to a gathering in his honor where you can raise a glass and share a memory. Join the family on Monday, August 23, at their residence at 25 Maple Street in Broadalbin between the hours of 4 and 6 p.m. In lieu of flowers, please make a memorial contribution to FMCC Foundation,2805 State Highway 67, Johnstown, NY 12095, or a charity of your choice. Please be respectful of COVID-19 guidelines.
Funeral arrangements have been entrusted to the care of the Betz, Rossi & Bellinger Family Funeral Home, 171 Guy Park Ave, Amsterdam, NY 12010. Online condolences to the family can be made at www.brbsfuneral.com.