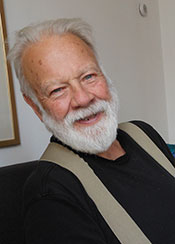 Ken was born on August 26, 1943, in Chandler, Oklahoma. His family (parents, three older brothers, two older sisters) became part of the long trail of Dust Bowl migrants westward when he was still a baby. After moving around for several years, they settled in Whittier, California. He grew up there with an extended family of grandparents, aunts and uncles, as well as nephews and nieces as his older siblings married and moved into households of their own -- he was the favorite uncle.
A natural athlete, he was a football star in high school and won several scholarships to college. He graduated from San Francisco State University, where he majored in English, and became a reader and writer for life. He attended the University of Iowa Writer's Program, and later received an MFA in writing from Vermont College and a Masters of Psychology from Goddard.
He worked in the counseling profession throughout his adult life: in Charlottesville, Virginia; in Central Vermont for Washington County Mental Health; as a private practitioner; and most recently as a consultant with Upper Valley Services. But he always remained a writer, publishing young adult fiction, writing several published short stories, poetry, one-act plays and other works of fiction. He most recently was working on his "Great American" novel.
He met his wife, Polly Abbott McMurtry, in 1966 in San Francisco, and they were married on February 3, 1968, in Southbury, Connecticut. They lived a wonderful, adventurous life together in Iowa City, Iowa, Charlottesville, Virginia, and Fayston, Vermont, before moving to Berlin Vermont in 2018. They raised three fantastic children: Amy, Gabriel and Christopher, and as a family spent some extended stays abroad in Dublin, Ireland; Finca Las Cancelada, Spain; Naxos, Greece; and Viareggio, Italy.
Ken passed away unexpectedly but peacefully at UVM Medical Center on August 10, 2021, surrounded by his wife and children. In addition to his wife and children, he leaves behind him six wonderful grandchildren, with a seventh on the way, as well as a sister-in-law, a brother-in-law, and many nephews, nieces, grand-nephews and grand-nieces and close friends.
Besides his work, Ken had many interests. He was fond of cooking and was the chef of the family, feeding us all well. He loved people and storytelling, and could keep a dinnertime conversation going late into the night. He enjoyed movies and reading, leaving behind a house full of books. He had additional hobbies too numerous to be listed and served various communities as a volunteer. He was loved by all and gave a lifetime of adventure, love and happiness. Ken will be forever missed.
All our love, Polly McMurtry; Amy and Michael Shannon and their children Kaitlyn, Kelsey and Brayden; Gabriel and Elisabeth McMurtry and their children Alice and Olivia; Christopher McMurtry and Sophie Kirpan and their son Sylvester.
No service is scheduled at this time. Donations in his memory may be gifted to the Vermont Food Bank or Habitat for Humanity.