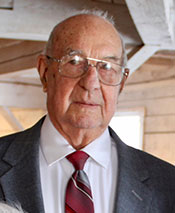 Victor R. (Vic) Dumas passed away peacefully in Barre, VT, on August 15, 2021, at the age of 91. Vic was born in Warren and grew up in the Mad River Valley. Upon graduating from Waitsfield High school, he enlisted in the U.S. Air Force, where he served his country for over 20 years, flying missions during multiple conflicts.
He married Anne Mehuron in 1959 and they raised a family while in the service. They celebrated their 62nd anniversary this year.
Upon leaving the service he returned to The Valley and continued his acts of service in many ways, including operating a small engine repair shop, a bottle return and redemption center where he collected the new returnable containers, and many years at the local hardware store where he relished helping customers solve their hardware projects. Helping people was his thing.
Vic was a past member and post commander for the American Legion, a past member of the Masons and for a short time in the mid-70s a volunteer ambulance driver. In that role, he marveled at the ability of flashing lights and blaring siren to evade the notice of some drivers for miles, before glancing in their mirror to see the word ambulance and promptly stomping on the brake.
Vic flew many missions to places all around the world during his years in the service, including Korea and Vietnam. Fortunately, not all were during conflicts. He recalled fondly the time spent in Christchurch, New Zealand, where he was based for delivering goods to the Antarctic station McMurdo. Stateside fond memories included a trip to Disney World with Anne, son Steve and family, and many grandsons' baseball games.
Vic loved to figure things out. Some projects went off smoothly, some a little less so. An experiment with vinegar and baking soda with young and impressionable sons proved mightier than planned, resulting in redecorating an entire bathroom. Another mystery involved how he knew, but never let on until much later in life, that his sons took the van out for joy rides, possibly before being licensed. Then again, reportedly Vic drove alone to the DMV in a farm truck for his driver's test.
Vic is survived by his wife Anne, sons Steve Dumas (wife Diane) and Spencer Dumas, stepson Bruce Mehuron (wife Peggy); by four grandchildren, Michelle Carr (husband Reed), Greg Mehuron, Jeff Dumas (wife Lidice) and Chris Mehuron; five great-grandchildren; and three sisters, Deana Deyette, Rea Haraden and Roberta Merchant.
Arrangements are being provided by Perkins-Parker Funeral Home. A graveside service in the Waitsfield Common Cemetery is being planned for Saturday, August 28, at 1 p.m. Please refer to the Perkins-Parker website to confirm the date and time or to leave thoughts, memories or prayers.
Donations in Vic's memory can be made to the charity of your choice.