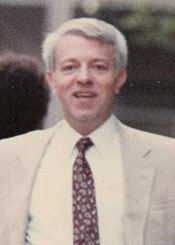 William L. Asbell Jr., 81, the son of Miriam S. and William L. Asbell, was born in 1940 and grew up in Macon, Georgia. He graduated from Lanier High School in 1958 with the rank of First Lieutenant in the school's Army corps of cadets. He earned a BA from Mercer University in 1962 and studied history at the University of Virginia Graduate School where he met and married Cathleen Sheehan.
While in the Army as an infantry captain at Ft. Benning, Georgia, in 1967-1969 he managed the opening phase of a capital campaign for the National Infantry Museum. That experience led to employment at Tamblyn & Brown, Inc., 1969-1975, where he managed a variety of capital campaigns including National Reading Is Fundamental and a combined campaign for Davidson and Queens Colleges in North Carolina.
In 1975, he became director of development at Norwich University, and he, Cathy and their three children lived on Garvey Hill in Northfield. He came to Norwich to revive a capital campaign that had been suspended in 1973 when the national economy was under great stress. The campaign was successfully completed in 1982.
In 1984, Bill became senior consultant for the firm founded by former Lieutenant Governor Barbara Snelling. In 1995, he founded his own consulting firm Mather & Hopkins, which was the street intersection where the Asbells lived in Montpelier.
Major clients in the Albany-Troy Capital District of New York included College of Saint Rose, The Eddy, Northeast Health and Center for Disability Services. The Eddy was established as a ladies' nursing home by the widow of an RPI grad who among other business achievements had for a time the contract for producing ink for the printing of U.S. currency. During the years Bill worked with them they absorbed Samaritan Hospital and Albany Memorial Hospital and built one of the first model centers for Alzheimer's care in the nation.
Although Bill worked with many college preparatory schools in the South and other educational institutions, the most interesting clients tended to be campaigns for small New England institutions: Odyssey House in Portsmouth, NH; Sheldon Museum, Middlebury, VT; Basin Harbor's "Philadelphia" restoration at Vergennes, VT; Norman Williams Library, Woodstock, VT; and Morgan Horse Museum, Weybridge, VT. Following are some amusing examples:
During the Odyssey House campaign in Portsmouth, Bill thought he was listening to people discussing a very wealthy potential donor named Sue Noo Noo when in fact they were discussing NH governor, John Sununu.
At Middlebury, after a successful study, the campaign committee met to start work. Twenty minutes into the meeting, a phone message came in indicating that the museum's principal donor had just died. The most striking sight on the opening day for the Morgan Horse Museum was when Mrs. Dupont, the aforementioned principal donor arrived driving her coach and six Morgans at a gallop.
Russians have a special place in the story. In Woodstock, Bill met the daughter of the last Queen of Bulgaria who was also the granddaughter of Tsar Alexander III of Russia. She said that her mother had been persuaded that the famous impersonator of Anastasia, the murdered daughter of Tsar Nicolas II, was genuine. Two weeks after this meeting the test reports revealed that the imposter had no genetic connection to the royal family.
In the reception room of a family foundation in Troy, NY, there is a framed piece of paper hanging among the many plaques and certificates of appreciation from charitable groups. The paper is a $10,000 bearer bond from 1910 and says that it may be redeemed any time after January 1, 1920, for $20,000 and that this promise is "backed by the full faith and credit of the government of His Majesty Nicolas Alexander Romanov, Tsar Of All The Russias." Of course, in 1918 Tsar Nicolas and all of his family including Anastasia were shot to death by the Communist Bolsheviks. The foundation director said that he kept the bond to remind himself that even his highly successful grandfather could make an investment mistake.
And, in the mid-70s Bill was instrumental at getting the anti-Communist Nobel Prize-winning philosopher-novelist, Alexander Solzhenitsyn to speak at Norwich University and he made sure that his young son had an opportunity to meet the great man.
In 2008, Bill closed Mather & Hopkins and retired after 40 years in fundraising, a career that included over 25 capital campaigns and 35 feasibility studies and institutional audits. Also in 2008, Bill, Cathy and their son, Bill III, opened a Planet Fitness franchise in Roanoke, Virginia, managed by Bill III, who went on to open 14 clubs employing around 300 people.
Bill loved raising flowers and gardening. Bill and Cathy restored a large, terraced garden of perennials and shrubs during their 18 years at Mather Terrace in Montpelier. Upon moving back to Northfield in 1999, Bill dove into transforming his home on Dole Hill Road with fruit trees, landscaping and perennial beds galore. He oversaw the gardening with the help of local teenagers when he could no longer do the work himself.
Bill's family will forever cherish his memory as the consummate "pater familias" and storyteller. He spent every waking moment of free time before and during retirement with his beloved wife, Cathy, and his children and grandchildren. He was totally devoted to them, and he would often regale them with the most entertaining stories of either his extended family in Georgia or recount the exploits of famous figures and events gathered from his encyclopedic knowledge of ancient and medieval history and mythology.
Survivors include his wife, Cathy; son, William "Bill" and wife, Lorena Quintas; daughter, C. Anastasia Kohl and husband, James; daughter, Sara-Ellen Moran and husband Matthew; grandchildren: Juliette Asbell, Sofia Asbell, Carlos Asbell, Fiona Asbell, Samantha Kohl, Nicolas Moran and Ronan Moran.
Visiting hours will be held on Monday, August 16, from 1 to 3 p.m. A gathering to follow at 146 Dole Hill Road in Northfield.