Amy Eilers, 60, of Moretown VT, left this world unexpectedly on September 28, 2021, surrounded by her family.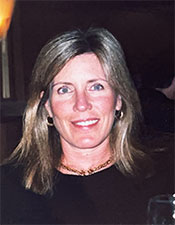 Amy was born on June 20, 1961, in Hartford, CT. She grew up in West Hartford, CT, and was a graduate of Kingwood Oxford High School. She continued her education at the University of Vermont and graduated in 1983 with a bachelor's degree in Health and Human Services.
It was in West Hartford that she met her future husband Craig in the eighth grade, at a school dance. They made their move to Moretown in 1981 and eventually married on September 5, 1987.
Following her graduation from UVM, Amy worked for many years at the Washington Youth Service Bureau where she made many lifelong friends and impacted the lives of young people as a beloved counselor. She was incredibly empathetic and warm, a bright light in the lives of those she knew and loved. After her second child was born, Amy dedicated herself to raising her children. Once they were grown, she busied herself with multiple volunteer efforts including work with Meals On Wheels and the local senior center. She also worked with multiple families in the community to provide occasional child care, and she loved all those young ones as if they were her own.
As a lifelong artist, her talents ranged from pastel to pottery, and she leaves behind many of her works to be cherished forever by her family. Along with art, Amy had a passion for animals, gardening, yoga and being by the water. A perfect weekend away was a beach chair by the water, a great book and her family by her side.
Amy was an incredible mother and her biggest passion was spending time with her family. She is survived by her husband of 34 years and partner since age 13, Craig, and their three children, Sierra, Mariah and Maxwell. She was thrilled to officially welcome her new son-in-law, Erik Littlehales, to the family as he married Mariah on September 17 of this year. She is also survived by her brother, Joseph Buths II, and sister, Joanne Chirgwin, who both live in Waterford, CT, along with many cherished nieces and nephews. She was predeceased by her parents, Joseph and Margaret Buths.
Her family will hold close the memories of the amazing woman she was, a loving mother, loyal friend and devoted wife. Her incredible garden she has cultivated since moving to Moretown will be one of many reminders of the beauty she brought to this world.
Per her wishes, she was buried in a green burial service at Waitsfield Common Cemetery.
A Celebration of Life is planned for Saturday, October 9, in Moretown. Get in touch with Craig Eilers for more details about the event. In lieu of flowers, donations in Amy's memory can be made to your local animal shelter or to Planned Parenthood of Northern New England.