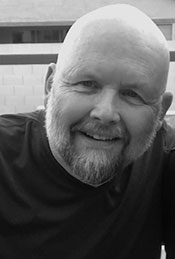 Robert's was a life defined by art. It was the lens through which he saw the world and every moment held the opportunity to create, to invent, to imagine, to share. He studied at the Maryland Institute of Art, the Corcoran Museum School and The Evergreen State College where he received a B.A. in Fine Arts and Linguistics. Later, he and his wife started the Shenandoah River Pottery in Luray, Virginia, and made pots for four years before moving to Waitsfield in 1982. They founded Marketing Arts and Robert designed marketing materials for many of The Valley's businesses, though his real love was designing books. Robert was a conceptual artist, but he was never confined to any one movement or medium. There was no aspect of life to which he did not apply his creative sensibilities and attention to detail.
Robert was inspired and deeply moved by artistic expression, and he lived to share that joy with friends and family. He was especially drawn to indigenous pottery from around the world. He loved the unpolished, the raw edge, seeing the maker's hand in the element. He had a passion for typography and a deep appreciation for the bookmaker's craft. He was a voracious reader. He delighted in the whimsy of cleverly designed objects -- the marriage of simplicity and ingenuity. Music sustained his soul.
Robert was deeply committed to family. He was a devoted son, eldest brother, father and husband. He loved being a dad. He nurtured the creative spirit. He was an unwavering champion and fierce advocate. He was generous with his time and always put others before himself. He listened with sincerity, in a way that suspended time. He always led with an embrace. Robert's love was big, warm, unconditional, nonjudgmental. His love was an invitation. His love was a gift.
Robert died on August 27, 2021. He will be profoundly missed by his wife of 43 years, Jill Schwenderman; his son Ryland and daughter Hannah; his many brothers, sisters, nieces and nephews. The world is a richer place because of you Robert, Dad, Bobby, Uncle Bob.