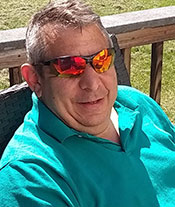 Christopher Mark Bordonaro ("Chris" to all), age 55, died at his Evergreen apartment in Waitsfield on Sunday, October 11, 2021.
Chris was born in Louisville, KY, on March 26, 1966. He came to The Valley shortly after graduating from Darien High School, Darien, CT, in 1985. His first job in The Valley was at Sugarbush in food service during the 1985-1986 ski season before he accepted a position at Allen Lumber Co. (now rk Miles). He was employed within that firm from an initial position as outside worker through delivery driver and then inside salesperson until his final position as assistant manager at the Waitsfield location.
After a decade of living elsewhere (Philadelphia, PA, then Coconut Creek, FL), Chris returned to The Valley in 2017 to assist his mother, who was having severe health problems at the time.
Chris is survived by three beloved sons, Mark Bordonaro (Barre) and Andrew and Brennan Bordonaro (both of Brandon, although Brennan currently is deployed abroad with the Army National Guard) and a 5-year-old grandson, Tucker, whom he adored. Other family members are siblings Anne Bordonaro of Moretown, James (Gaelynn) Bordonaro of Emporia, KS, and Margaret (Scott) Sombric of Indian Hammock, Florida; stepsister Jane Kendall (Greenwich, CT); his mother, Alice Evans (Waitsfield); and two former spouses, Tonya Allen Farnham (Waitsfield) and Patricia Bordonaro (Granville). Aunts and uncles are Kathleen and Bill O'Malley (Avon Lake, OH); James and Magdalena ("Maggy") McClure (Akron, OH); Marie Bordonaro (Portland, CT); and Judith and Andrew Nagy (Amarillo, Texas), both of whom predeceased Chris, as did his father Albert Bordonaro, stepfather William J. Kendall, stepbrother Steven Kendall and all four grandparents.
Surviving first cousins include Beverly Pasieka (Haddam, CT), Joseph Bordonaro (Portland, CT), Guy Carta (Ormond Beach, FL), Karen Stone (Avon Lake, OH), Kathleen Dzurilla (Brecksville, OH), Will O'Malley (Columbus, OH), Paula Brooks and Laura Aston (both of Amarillo, TX), Michael McClure (Livingston, MT) and Leslie McClure (Akron, OH). Chris leaves behind many nephews and nieces, scattered from northern California to southern Florida. Chris also is mourned by longtime best friend Kraig Greenslit (Warren).
Chris had been part of the Darien H.S. wrestling team. In his early teens he developed a passion for sailing and shortwave radio transmission. Later he came to enjoy skiing and snowmobiling. His hobbies in more recent years have included gardening and birdwatching. He was an accomplished cook. For his mother's 80th birthday Chris single-handedly catered an Italian buffet for 60 guests that featured lasagna, eggplant parmigiana, stuffed shells, baked chicken and salads.
Chris' longtime interests included all the physical sciences. He especially enjoyed reading National Geographic and books by Sebastian Junger ("The Perfect Storm" and "Fire"), Bruce Chatwin ("In Patagonia") and Bill Bryson ("A Walk in the Woods"), while his taste in television and film ran to the William Shatner and Patrick Stewart "Star Trek" series as well as "The Lord of the Rings" trilogy. He avidly followed U.S. politics and foreign policy.
Arrangements for a celebration of Chris' life are still TBD, and will appear in this paper in coming weeks.
Chris' family expresses their deep appreciation for the outpouring of love from Valley residents. Once more we are reminded of the extraordinary character of those who choose to live here.