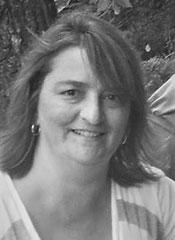 Joan E. Potter, 54, passed away on Thursday, October 14, 2021, in the comfort of her home and family following a valiant battle with cancer. Born in Barre City on January 19, 1967, she was the daughter of Shirley "Rheaume" Longchamp and the late Alfred "Fred" Longchamp. She married Eric Potter on February 4, 1995, at St. Sylvester's Catholic Church in Graniteville.
Joan was a 1985 graduate of Spaulding High School; she continued her education at Castleton and Norwich Universities earning an associate's degree in nursing. Joan began working as a nursing assistant in high school and continued this work through college. Joan then worked as a registered nurse at McFarland House and Woodridge Nursing home; she held the director of nursing position for many years. Joan ended her career with The Manor in Morrisville working in residential care, a job she truly enjoyed as the residents felt like family to her.
She was a member of St. Andrew Catholic Church and Harry N Cutting Post #59 American Legion. Joan was a true athlete earning a spot on the all-star field hockey team in high school and winning the state championship her senior year. Joan also played broom ball, softball and volleyball throughout her life. Joan was a loving wife, mother and dog mom cheering on her kids every chance she got whether that be in a hockey rink or an auditorium. Nothing could have made her prouder than watching her husband run a successful business and her kids grow and become successful young adults.
Joan loved taking family trips in the summer to both Lake Groton and Maine. Joan and her family could never express enough gratitude to her brother Fred for donating a kidney and the selfless person who was an organ donor, giving her the gift of a pancreas and many more years of life. Over the last four years Joan gave cancer her very all, always keeping her head held high and putting on a brave front, she was always optimistic and strong.
Joan is truly loved and mourned by her large and loving family, her husband of 26 years, Eric Potter of South Duxbury; her children Brandon Potter of South Duxbury, Molly Potter and her partner Daniel Auszura of South Duxbury; her mother Shirley Longchamp of Upper Graniteville; two sisters Patricia Brown and her husband James of Williamstown, Mary Longchamp and her partner Michael Orris of Upper Graniteville; three brothers, Steven Longchamp of Waterbury, Frederick Longchamp and his wife Marjorie of Upper Graniteville, Timothy Longchamp and his wife Donna of Websterville; her mother-in-law Nancy Potter of Waterbury Center; as well as nieces and nephews and extended friends and family. Joan was predeceased by her father Alfred Longchamp; her father-in-law Calvin Potter.
A Mass of Christian Burial will be celebrated from St. Andrew Catholic Church in Waterbury on Saturday, October 23, 2021, at 11 a.m. with a reception to follow at St. Leo's parish hall. Inurnment will be a private service at a later date in St. Sylvester's Cemetery in Barre Town. For those who wish, memorial gifts would be appreciated to Central Vermont Humane Society https://centralvermonthumane.org/.