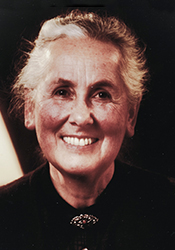 Eleonore "Lorli" Trapp Campbell, 90, died peacefully on October 17, 2021, in Northfield, Vermont, with family at her side. She was born in Salzburg, Austria, the second daughter of Georg Johannes (Pola, Austria) and Maria Augusta Kutschera von Trapp (Vienna, Austria). The von Trapps, whose singing of sacred, Renaissance and folk music led to their international fame, fled Austria in 1938 to avoid Hitler and eventually settled in Stowe, VT. Lorli's first career was singing soprano as a member of the Trapp Family Singers, traveling internationally and to all of the United States, except North Dakota and Alaska, until she married Hugh David Campbell in 1954.
A loving and beloved wife for 65 years, Lorli supported Hugh's career first as a French teacher, soccer coach and then headmaster at schools in Connecticut, Massachusetts and Rhode Island, while raising their seven daughters. In 1975, the family moved full-time to Waitsfield, VT. They dug a pond, which yielded children and grandchildren many happy hours of swimming, bird watching, pollywog-catching and ice skating.
A fabulous cook, Lorli baked the family's bread and taught her girls to cook, bake, garden, sew, knit, darn and make butter and ice cream from scratch. She cherished long cross-country ski hikes when they built a fire in the snow and roasted hot dogs. Lorli sewed many of her daughters' wedding dresses; she baked wedding cakes and rolls and arranged flowers for their wedding receptions. She and Hugh planted raspberries, blueberries and fruit trees, and took pride in her flower gardens. Lorli and Hugh graciously opened their home to many friends and family but particularly loved sharing their hobbies and spending time with their grandchildren. Lorli cherished her friendship with God and loved to share her faith.
Lorli was a devoted mother to her seven daughters: Elizabeth (Howard Saxner) Peters of Cambridge, MA; Peggy Sanders of Charlotte, NC; Jeanie (William) Lero of Hollis, NH; Polly (William) Moore of Waitsfield, VT; Erika (Kevin) Copeland of Hayden, CO; Hope (Mark) McAndrew of East Hardwick, VT; and Martina C. Price of Jericho, VT. She leaves her sister Rosemarie and brother Johannes (Lynne Petersen), both of Stowe, VT. She is also survived by her 18 grandchildren, Carla Hunter (Charlotte, VT), Lucy Nguyen (Burlington, VT), Nathaniel Peters (New York City), Molly Peters (Los Angeles), Catherine Anderson (Seattle), Peter Moore (Waitsfield, VT), Sarah Moore (Eliot, ME), Laura Moore (Long Island), Alexander McAndrew (East Burke, VT), Angus McAndrew (East Hardwick, VT), Kaitlyn Tamez (Hayden, CO), Meghan Jezo (Fort Collins, CO), Josiah Lero (Greenville, SC), Michael Lero (Worcester, MA), Rebecca Philip (Bedford, MA), Emily Price (Richmond, VA), Addie Price (Manchester, MD), Lisi Price (Jericho, VT), and six great-grandsons. Another grandson, Timothy David Price, predeceased her.
Family and friends are invited to meet on Saturday, November 6, at 10:30 a.m. at the Waitsfield Church and Village Meeting House in Waitsfield, VT, to celebrate Lorli's life. Burial will follow at the Common Cemetery, 1027-1103 Joslin Hill Road, Waitsfield. A reception will follow. Online condolences may be left at www.dayfunerals.com. Arrangements are by the Day Funeral Home in Randolph.