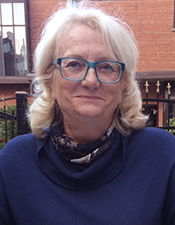 Robin R (Pask) Donkersloot of Fayston, VT, passed away at home on November 9, 2021, with her husband and sister by her side, after a courageous and brief battle with lung cancer.
Robin was born March 4, 1948, in the borough of Queens, New York City, and grew up in Ridgewood, NJ, where she graduated from Ridgewood High School and later attended Bethany College in WV.
She enjoyed a successful career as publisher of several trade journals for 25 years and traveled the globe before retiring to spend time caring for her aging parents.
Her love of travel began with a cross-county trip in her yellow VW convertible with her dear friend Jill from her college days. She later fell in love with the Mad River Valley, where she shared ski houses with her brother and many friends. A cherished story of hers was of Art Garfunkel knocking her down on the slopes, apologizing and then buying everyone a round of drinks later at the Wunderbar.
She married Jim Donkersloot on August 26, 1989, and they lived in Wyckoff, NJ, for 25 years. Jim also had a love of skiing in the Sugarbush/Mad River Valley, and they bought a house in Fayston in 1997. After Robin's retirement, they spent their time between Fayston, VT, and a home on St. Simons Island, GA. An avid golfer, Jim and Robin spent many days enjoying golfing together at Sugarbush and the many courses around St Simons Island, Georgia.
In 2018, they moved from St. Simons Island to a golf community in Southport, NC, where they met several new friends and caring neighbors. This move also brought Robin closer to her sister Lynn and her family in the Raleigh area.
Robin was a lifelong New York Yankee fan and could often be heard directing and criticizing the players and coaches while watching the games, but also enjoying every win. She was a true fan.
Robin was an avid reader and always had a good book or two by her side and also enjoyed planting and harvesting her garden.
Robin is survived by her husband Jim, brother Mark Pask (Jan) of Cape May, NJ; sister Lynn R. King of Raleigh, NC; nephew Logan H. King (Jessica) of Southern Pines, NC; niece Emma L. King (Skylar) of Raleigh, NC; nephew Jim Pask (Megan) of Franklin, TN; Greg Pask (Heather) of Cornwall, VT; as well as seven grand nieces and nephews.
Robin is predeceased by her loving parents, Lawrence (Chic) Hamilton Pask and Marion (Buysse) Pask.
Anyone that had the privilege of knowing Robin knew what a gentle and kind soul she was, and her amusing personality and great spirit will be missed by all.