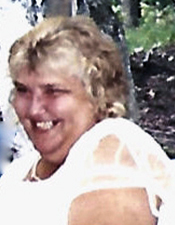 Peggy Jane (Holden) (Towndrow) Parker, 68, passed away December 29, 2021, at Dartmouth Hitchcock Medical Center. She was the fourth born of eight children to Frank and June (Humphrey) Holden. She was born March 11, 1953, in Springfield, Vermont. She was raised with her seven siblings in Moretown, Vermont. Peggy was struck with polio at a young age which left her with some physical limitations, but even with those limitations, Peggy lived a full life attending and graduating Harwood Union High School in 1972. Peggy married Wedsel G. "Bud" Towndrow III April 27, 1973. They resided in Graniteville, VT, until early 1976 before moving to Waterbury, VT, with their growing family. Together they raised three children: Wedsel G. "Buddy" Towndrow IV and twin daughters Tanya Towndrow and Tina Towndrow. Peggy and Bud later divorced. Peggy met Gordon "Bub" Parker and they married August 18, 2007, where they enjoyed life to its fullest until Gordon's passing June 26, 2019.
Peggy worked for over 35 years with National Life Insurance Company in Montpelier, Vermont, beginning her career while still attending high school and then working her way from a key punch operator to an executive assistant at the time of her retirement. Peggy proudly joined the quarter century club at National Life. She was a very talented painter. She painted for most of her years gifting her precious paintings to many loved ones. Peggy was not only a dedicated supporter/volunteer of the Harwood Boosters Club during the years her three children attended and played sports at Harwood Union High School, she was a dedicated, devoted and supportive mother of her children as well.
Peggy was an avid bingo player. She took many ceramics classes and completed many beautiful pieces of ceramic art as well as her love and passion for her grandchildren, especially her granddaughter, Caydence.
After Peggy's retirement, she and Gordon resided in Weston, Vermont, during the summer months and traveled to Florida in their RV during the winter months. They parked their RV for a couple of months as snow birds at Peggy's sister-in-law Cheri's home in northern Florida where they both enjoyed the relationship, bonding and lifetime memories with their nephews, Chris and Alex, and niece, Colleen. Gordon and Peggy thoroughly enjoyed Bluegrass music and attended many Bluegrass Festivals from Vermont to Kentucky to Florida. They traveled with their German shepherd Tasha until her passing and later traveled with their most recent companion, German shepherd Yukon, until Gordon's passing.
Peggy is survived by her son Wedsel "Buddy" Towndrow IV, his wife, Shannon, his step-son Colin, sons Connor Towndrow and Wedsel D. Towndrow and their grandson, Michael, daughter Tanya Towndrow along with her daughter Caydence Mary-June, daughter Tina Towndrow, step-son Harvey Parker, step-daughter Kathy Blanchard, brothers Mitchell Holden and wife Marcia (Lamson),Tracy Holden and companion Carol Gargon, Stacy Holden and wife Tammi (Garceau) brother-in-law Richard Finn, sisters Elizabeth (Holden) Corse, Pamela Holden, Holly Holden, aunts, uncles, cousins, nieces, nephews, extended family, co-workers and friends.
Peggy was predeceased by spouse, Gordon "Bub" Parker, her parents, Frank and June (Humphrey) Holden, sister Brenda (Holden) Finn, brother-in-law, Clifford Corse, brother-in-law Robert Nye and niece, Stefney Holden.
Peggy will be respectfully remembered as a loving, kind person with a huge heart.
A service to remember Peggy and lay her to eternal rest will occur at a later date in Moretown, Vermont.