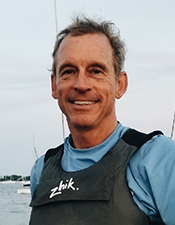 Christopher Eric Woods, 62, passed away on January 30, 2022, in his new hometown of Waitsfield, Vermont. He suffered from a cardiovascular event after a beautiful day of cross-country skiing. He is remembered by so many for living an active lifestyle to the fullest and that day was no exception.
Chris was born on February 25, 1959, to John and Margery Woods and grew up in New Cannan, Connecticut. He attended Berkshire School in Sheffield, Massachusetts, and graduated from New Canaan High School in Connecticut. He graduated from Hobart University, studied at the Sorbonne in Paris and earned an MBA in finance from New York University.
Chris was a loving father to two children, North and Willow, as well as a brother to John and Stephen. Chris was also an animal lover, most recently was always accompanied by his springer spaniel and best friend, Jack.
Chris started his career in investment banking at AG Becker Warburg Paribas, later moving on to EF Hutton as vice president of international fixed income sales. He continued his successful career in finance until taking an entrepreneurial path in 1993, which he continued for the rest of his life.
A lifetime athlete, Chris was an accomplished triathlete. He completed 23 Ironman distance triathlons, including a successful finish at the Ironman World Championships in Kona, Hawaii, in 2004, and multiple USA Triathlon All-American competitions. Chris was also known for his talents at the helm, sailing across the world in regattas and world championships, including the 505 World Championships in Sydney, Australia, and Big Boat Series in San Francisco. He regularly crewed on the Farr 50 Yacht INFINITY. Chris resurrected the frost-biting program at Cedar Point Yacht Club in Westport, Connecticut, and for many years headed the team racing program at the New York Yacht Club.
Chris spent the rest of his free time volunteering, youth coaching and tutoring. Most recently he volunteered at the Joslin Memorial library, Waitsfield, and coached the "Blazers," a backcountry skiing program at Sugarbush Resort.
His family asks that in Chris' memory, you consider donating to Joslin Memorial Library in Waitsfield, Vermont, in lieu of flowers. Joslin Memorial P.O. Box 359 Waitsfield, VT 05673