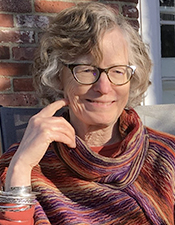 Laurie Hoggan Jones died peacefully at her home in Warren, VT, on Tuesday, February 8, 2022, surrounded by her family. Diagnosed with ovarian cancer in December 2019, she never shied away from the diagnosis or the disease and met each challenge with courage and grace. Over two years she stoically received multiple rounds of chemotherapy which did not diminish her spirit or her sense of humor. Laurie maintained her "glass half full" attitude right to the end, which came just a few weeks away from her 70th birthday. The fact that she didn't make it to that milestone certainly would have annoyed her.
Laurie was born on February 27, 1952, in New Haven, CT. She was a straight A student, master jacks player, spelling bee queen, crossword puzzle aficionado, jump rope whizz, miniature golf champion and some would say a cribbage hustler. She graduated from Milford High School, Milford, CT, in 1970, and married Bruce, her childhood neighbor and friend, the love of her life, in 1972. They moved to the wilds of Johnson, VT, where she graduated from Johnson State College in 1974 with a degree in Social Sciences.
After a stint working at the Trapp Family Lodge in Stowe, where the tips were better if she wore her hair in braids, she and Bruce moved to Boston to seek fame and fortune. For the next 14 years, Laurie worked in the personnel department of Filene's Department Store, climbing the corporate ladder and wearing classic 80s attire: business suits and sneakers.
In 1988, she and her family moved back to Vermont, and after a brief time at the Mount Mansfield Company, she went to work as the secretary/administrative assistant at The Warren School, a job that she adored and held for 27 years. With a great perspective on what was needed in any situation and a nearly infallible memory for details, she ran the daily operation of the school and helped to sustain the life of the institution. As the "mother" of the school, she was a fierce advocate for the children and families of Warren, touching many lives young and old. It was not uncommon to be in Burlington or Montpelier and have a young person rush up to give her a hug and catch up. At the school, she was known for her impossible Secret Santa clues, her love of traditions and events and her championing of the "bad boys." She also ran the very successful Summer Program at the school and was famous for the annual viewings of The Princess Bride on rainy days.
After leaving the school, Laurie went to work for Sugarbush Resort. Once again working in the personnel department she continued helping her former families from Warren and the greater Sugarbush community. She loved being on the front line in the office, helping people solve problems.
Laurie was on the board of directors for the East Warren Community Market from its inception and was very proud of its success. To say Laurie was an avid reader would be an understatement: It was not uncommon for her to read a book a day. She was very pleased to serve on the board of the Warren Public Library to help make books available for all.
Laurie loved to travel. Whether it was a school trip to Boston or Cape Cod, vacation travel to Mexico, Europe, Martha's Vineyard or northern Maine, or a Miata top-down car ride with Bruce on a sunny day, she embraced the experiences. To document these experiences, she kept a detailed journal, in case anyone forgot what day they arrived or what they had for dinner, which settled many disputes. She embraced the idea of making the best of the life you have and would like you to do the same -- just in case.
Laurie is survived by her husband of almost 49 years Bruce Jones of Warren, another milestone she just missed; her daughter Whitney Doenges of Warren, husband William and their children Maxwell and Lucy; her son Tyler Jones of Portland, Oregon, his partner Michelle Soto; her sister Christina Schultz of Arlington, MA, husband Neil; her brother Peter Hoggan of Lawrenceville, NJ, his wife Gayle Fredericks, and many nieces and nephews.
She was predeceased by her parents Laurence and Lorraine Hoggan and brother Anthony.
A celebration of life is planned for the summer of 2022.
If you want to make a donation in her name, Laurie requested that you consider the Warren Public Library, the Mad River Community Fund or Central Vermont Home Health and Hospice.