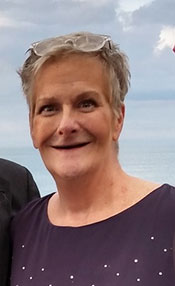 Coleen Mckeowan passed away on April 21, 2022. She was born August 5, 1956, in Brooklyn, New York, to Barbara and Harold J. Mckeowan.
She graduated from Ward Melville Senior High School in 1973 and attended Suffolk Community College for two years, studying secretarial sciences.
She met her first husband, John Ritchie, in Vermont while visiting friends of friends and married him in 1986 in New York. Their son Morgan J. Ritchie was born in 1987.
Her first job in Vermont was working for Sugarbush Valley Real Estate for Dick and Hanne Saltzman. She later worked for Bernard Perillat and Henri Borel at Chez Henri. She was well known throughout The Valley, working in many hospitality businesses, bartending, waitressing, catering and more. Additionally, she worked as reservations supervisor at The Bridges and at The Common Man.
Coleen returned to New York to care for her parents when both were diagnosed with cancer in 2006. Her son Morgan moved to New York a month later. After her parents' deaths in 2011 she returned to Vermont, settling in Granville and working in retail.
She was diagnosed with breast cancer in 2013 and after several surgeries, chemotherapy and radiation, went into remission. The cancer returned in 2017 and she was treated with immunotherapy, which was successful until late 2021.
She was thrilled to be able to attend her son Morgan's wedding in August 2021 when he married Anna (Wik) Ritchie.
Coleen married her long-term partner Albert J. Fisher on September 16, 2021.
She is survived by her husband Al Fisher, her son Morgan and his wife Anna Ritchie of Nesconset, New York; her maternal cousins Michael J. Donahue, Ticonderoga, New York, Charles Donahue, Ridge, New York and Deborah Gasser of Ticonderoga, New York as well as her paternal cousins: Kathy, Patty, Mary Beth, Maureen, Meg, Carolyn and Ricky. She leaves her dog Cole and cats Tess and Spud.
Services will be private. Her family thanked the staff at CVMC who cared for Coleen in her final weeks. Donations in her name can be made to St. Jude's Children's Hospital. (https://www.stjude.org/)