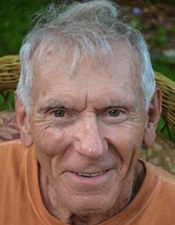 Peter Skidmore Dean, 86, died Sunday, April 24, 2022, of stage 4 metastatic prostate cancer.
Peter was born on March 28, 1936, in Burlington, VT, and graduated from Burlington High School after which he received training in the Vermont Air National Guard as an engineer.
Peter spent more than 40 years working for WDEV in Waterbury as a radio engineer. One assignment had him climbing the 435-foot radio tower to change a light bulb. After that, he decided that he preferred to have the ground beneath his feet.
Peter married Lillianne Thibault in 1961 and the couple raised their four children, first at their home on Blush Hill, and then finally at Moran Lane in Waterbury. They later divorced and remained friends until Lillianne's death in 2013.
Peter was a wonderful human being and a loving father. He played a meaningful role in many lives, not only to his own family, but to others in the community. From being a Boy Scout Master to helping organize a twice-weekly roller-skating program at Waterbury Elementary School. He genuinely cared about people, young and old, and made everyone around him feel respected and appreciated.
Peter later purchased a Dodge Roadtrek and spent nine years traveling from Vermont to Arizona and New Mexico and back again with his loving partner of 42 years, Alice James, whom he shared a great love of the Southwest. They enjoyed visiting national parks and camping at many state parks. They explored so many areas that they joked they had to return to some of those places because they couldn't remember if they'd been there before! They traveled Route 66 and met many extraordinary people on their journeys. They developed a friendship with a scientist at the VLA Radio Telescope site in New Mexico and had the pleasure of climbing into the cup of one of the telescopes -- a rare treat indeed! They made many trips from Nogales to Taos, and even to Mount Lemmon in the Coronado National Forest to experience desert-to-arctic temperature changes from the base of the mountain to its 9,171-foot peak. Peter wrote daily updates to family and friends of the places they had been and their many adventures of living in the Southwest. These were some of the happiest times in his life.
One of Peter's passions was hiking in Vermont. Peter continued the Dean legacy of being intimately involved with the development of the Long Trail which his grandfather, Theron Dean, started over 100 years ago as the official photographer of the early Green Mountain Club. On his own, Peter assisted with helping to clear trails and maintain shelters that he frequently visited throughout the years. There is a shelter, a cave and a trail named after Theron which is located near Mount Ellen starting from the Appalachian Gap, at the top of the pass of Vermont Route 17.
Peter lived his life on his terms – honestly, with integrity and humor. He supported his children and grandchildren in all aspects of their lives and would attend as many activities and celebrations as he could. He adored spending time with his family no matter what adventure he was taken on. And "Uncle Pete" loved reconnecting with his extended Thibault family during their annual reunions at Sandbar State Park. Those were memories to last a lifetime.
Peter is survived by his amazing family (his words, not ours): Myles Dean of Laconia, NH, and his children, Sarah, Hannah and Samuel Dean, all living in Sweden; Monica (and Bob) Cayia of Burlington, VT, and their children Kristen Cayia-Kuklis and Beth Cayia-Hammond; Karen Dean of Burlington, VT, and her children Nate (and Caitlin) Vasseur and Ethan (and Madison) Vasseur; and Soaring Bear of Sedona, AZ, and his children, John Dean and Carter Dean, as well as nine great-grandchildren and one great-great-grandchild. He is also survived by a brother, Johnny Dean, of Socorro, NM.
Peter was preceded in death by his parents, Burtis and Helen (Holmes) Dean, his sister Catherine Varricchione, brothers Wally Dean and Billy Dean, and his son-in-law Jim Vasseur.
Peter insisted that there be no service or celebration of his life; however, if you want to honor him, go for a hike, explore the Long Trail, and remember this wonderful man and how he made you feel. He would love that.
In lieu of flowers, donations can be made to the Green Mountain Club,
4711 Waterbury-Stowe Road, Waterbury Center, VT 05677 or online:
www.greenmountainclub.org … or just plant a solar panel on your property. Peter would be very pleased with either.
You can listen to remarks of remembrance by WDEV's Tom Beardsley:
https://d2103.cms.socastsrm.com/2022/04/25/calvin-cutler-and-louie-manno/