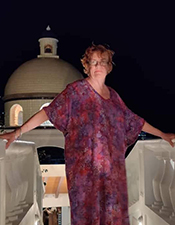 Sarah Denby died in her home in Puerto Vallarta, Mexico, in March 2022. The cause was PSP, a rare neurological disease.
Sarah was co-owner of Richard's Special Vermont Pizza (RSVP) located by the covered bridge in Waitsfield during the 1980s and 1990s.
Sarah was originally from Cleveland, Ohio. She attended Kent State University. She was on campus May 4 when Ohio National Guard troops killed four students protesting the Vietnam war. Sarah moved to New York City in the 1970s to pursue a career in acting. She appeared in a number of feature films and had a cameo on Saturday Night Live's first season where she played Patty Hearst.
In 1980, Sarah did voice-over commercials for John Anderson's independent presidential campaign; the first woman to do so.
In the mid-1980s Sarah played Denise Savage in John Patrick Shanly's "Savage in Limbo", directed by Neal Harrington and featuring Cat Carr and Carl Bates.
Sarah used her acting ability to run the front of the house at the internationally known RSVP. She oversaw the fabrication of fresh pizzas for Zabar's in New York and trained a generation of local high school and college students on all aspects of running a successful food enterprise.
Sarah is survived by her son Jonathan, also of Puerto Vallarta.