Patricia A. Burley
1931 - 2022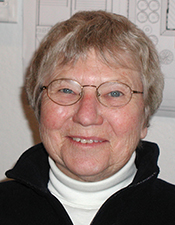 Patricia Ann (Funk) Burley, longtime resident of Waitsfield, passed away on March 27, 2022, at Central Vermont Medical Center with her husband Bob, daughter Jill, and son Todd by her side.
Pat was born in Buffalo, New York, to Dr. and Mrs. Arthur Funk. In addition to her husband and two children, Pat is survived by her younger brother William Funk and many nieces and nephews.
Pat had a gift for adventure from childhood. Her family spent summers boating on Lake Erie and the Niagara River. She learned to ski south of Buffalo at the Roald Amundsen Ski Club where Andy Hengsteler was president and ski-maestro. Pat first came to The Valley as a teenager to ski at Mad River Glen, staying at Hap and Eloise Gaylord's inn on Route 100.
It was through the ski club that she met Bob Burley from nearby Kenmore, NY. Pat attended the University of Buffalo and then went to Skidmore College to be closer to Bob, who was in architecture school in New York City. She studied art and design.
The couple married in 1953 and set off on a one-year traveling fellowship from Columbia University to study architecture in Europe, visiting major cities, driving through the Alps and across the Egyptian sands, with camping gear, ski equipment, sketch books, cameras, and a sense of purpose.
They returned to Buffalo briefly before moving to Michigan where Bob was offered a position with architect Eero Saarinen and Pat soon found herself working closely with Aline Saarinen in the office's marketing department. Pat continued to foster her interest in design, taking weaving classes at nearby Cranbrook School. When the office relocated to New Haven, Connecticut, so did Pat, Bob, and their two young children.
During that same time, they built a small ski chalet on Bragg Hill to use on weekends. Sugarbush ski area was newly opened and The Valley was seeing an increase in out-of-town visitors and second-home owners.
It was a snowy night, driving south through the Granville Gulf back to the city, that Pat made the decision to move to the Mad River Valley. In 1964, Pat and Bob purchased the Fayston No. 9 Schoolhouse and started an architectural practice. Pat ran the business side, utilizing early computer systems, and shared her interior design skills on many Burley Partnership projects.
Landlocked, Pat and Bob developed a love for wooden boats and sailing on Lake Champlain. For many years, they owned, and Pat operated, The Essex Shipyard in Essex, NY, which became a center of fun and friendship for Pat and many boaters from near and far. In retirement, the Burleys cruised the East Coast, from Vermont to the Florida Keys, Pat at the helm, Bob handling the lines.
Pat was involved in several local initiatives that became long-standing institutions in The Valley. She and her good friend Jackie Rose were founding partners of The Store in Sugarbush Village. They and others were instrumental in establishing the elementary school ski program, as well as art lessons for Valley school children at the Bundy Art Gallery. Pat participated in local civic life, going to many board and town meetings and hearings. She was a longtime member and supporter of the Waitsfield Historical Society. She always took great interest in what was going on around The Valley, appreciating the many and varied people who contributed to its community spirit.
She had a keen eye for interesting and fun projects that included old buildings, old boats, and old cars. She never hesitated to jump in to do the work. She always accepted new challenges, even when faced with mobility problems. She enjoyed the art of cooking, eating out, trying new things, and going new places. She relied on Bob to share in the excitement and joy of every adventure.
Pat's can-do spirit, strength, and determination will be very much missed by her loving husband, family, and many friends.
A service and reception to honor Pat's life will be held June 8, 2022, 11 a.m., at the United Church of Christ in Waitsfield Village. All are welcome.