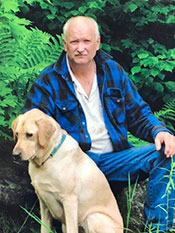 Bernard (Bernie) Louis Sweet from South Duxbury, VT, entered eternal rest June 2, 2022, in his home surrounded by his wife and family. He was born on July 19, 1947, to the late Louis and Rheagene (Bunny) Campbell Sweet. Bernie was born in Burlington, VT, and grew up in Waterbury, VT. He graduated from Waterbury High School in 1965. Bernie married Marcia Lemery on September 4, 1965, at St. Andrews Catholic Church in Waterbury, VT. They have been married for 56 blessed years. Bernie was a faithful man who had a deep love for the Lord, and his family.
Bernie was nothing short of a dedicated, hardworking, generous man. During his high school years, he worked at Norm's Restaurant as a cook. After graduation he worked at Pratt & Whitney a short time, then Mad River Glen ski area, and Robert Horseman Construction Co. of Moretown. When Bob closed his building company Bernie went to work for Brothers Building Co. and later Greenmoss Builders. He became foreman and headed up construction on many beautiful homes in the Mad River Valley. The most significant work was the home he built for our family and one for his son. His passion for working in the trades inspired him to focus on electrical work. While raising their four childrenm he attended night school and completed an apprenticeship to obtain his master electrician license. He owned and operated his own electrical company, Sweet Electrical Services Inc., for 30 years. Bernie took his love of his family as well as his love for electrical and incorporated this into his business. His son Bernie and daughter Tammy worked daily by his side as well as his son-in-law, Todd Rexford. After closing the business in 2008 he worked for Dynapower and Northwind Power building wind turbines. He finished out his working years at Green Mountain Coffee/Keurig in maintenance.
Bernie's spare time was filled with a variety of interest and joy. Raising angora goats and traveling to goat shows with Papa was a treasure. To his delight each spring enough baby goats were born so that each of his grandchildren had one to feed and hold. His not-so-secret desire to be a farmer was satisfied by raising many animals over the years: pigs, rabbits, chickens, ducks, and horses, even one milking cow! He loved his many dogs. Many years of horse raising saw him trucking his daughters to 4-H shows or playing polo, out sleigh riding with the family's Morgan horse, trail riding, gymkanas and, of course, much haying and shoveling manure! Whether traveling to Civil War sites with his wife, parents, and family, sailing with friends, kayaking, scuba diving, camping, bluegrass festivals, and weekly cribbage games by the brook was years of fun and happy memories. Another passion would find him on the sidelines cheering on his children or grandchildren playing sports. No better partner could a wife dream of than Bernie dancing her around the kitchen or wherever he fancied or spending hours in fabric stores and checking out every plant store she could think of, and taking her to the ocean to walk the beaches at night, were just a few of his generous acts of love! Deer, moose, and duck hunting or ice fishing occupied much of his dreams. His anticipation for hunting season with his son, sons-in-law, and grandsons was euphoria. He owned a camp with his wife in Groton, VT, that he considered a piece of heaven and looked forward to every visit to this wooded oasis. More than anything, he was a family man who cherished his time doing these things with his family, his love, his pride and joy.
Bernie was a member of the St. Andrews Catholic Church, Knights of Columbus, 15 years service to the Waterbury Ambulance Squad, Mad River Valley Polo Club, the Lyon's Club, Mad River Riding Club, and 251 Club.
Bernie and Marcia have four children, Bernie Eric Sweet, wife Theresa Voyer of South Duxbury, VT; Laurie Rexford, husband Todd Rexford of Waterbury, VT; Melisa (Misty) Pidgeon, husband Jeff Pidgeon of Durham, NC; and Tammy Ferris, husband Scott Ferris of Waterbury, VT; 10 grandchildren – Eric Sweet, Ashley (Ami) Sweet, Samantha (Brian) Huber, Mark (Kristina) Rexford, Jennifer Pidgeon, Mackenzie (Erin) Pidgeon, Rheanna Pidgeon, Jessica Pidgeon, Brittany (Seth) Dion and Kaylee Ferris and nine great-grandchildren. Bernie is predeceased by his great-grandson, Cayden Dion. Bernie has a sister, Judy Burkhart of Ollala, WA, and a brother, James Sweet of Waterbury Center, VT. He has multiple brothers and sisters–in–laws that he considered his siblings. Bernie has many nieces and nephews that he held in high esteem.
Bernie touched many lives, so evident in his last days by the countless people reaching out in support and visits.
Calling hours are Wednesday, June 8, from 6 to 8 p.m. at Perkins-Parker Funeral Home in Waterbury VT. A funeral Mass will be celebrated on Thursday, June 9, 2022, at 11 a.m. at St. Andrews in Waterbury, VT, followed by a reception in St Leo's Hall and a burial at Phillips Cemetery in Duxbury, VT, at 2 p.m. In lieu of flowers the family has asked for donations to be given in Bernard's name to either the Waterbury Ambulance Service, St. Andrews Catholic Church, or the Waterbury Senior Center.