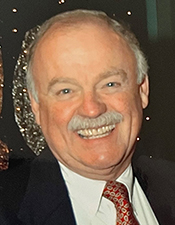 M. Richard "Dick" Jamieson passed peacefully on May 27, 2022, with his family by his side as a result of complications related to heart surgery in Salt Lake City, UT.
A sixth generation Vermonter, Dick was born in Bennington on January 2, 1944. He grew up on a dairy farm on the Waitsfield Common with four siblings (including his 'Irish twin' brother David who shared in many of Dick's early exploits) until he was 15. His mother was concerned that the kids would be exposed to bad influences in the move to Waitsfield Village in 1959 but they appear to have escaped that fate.
Two things framed Dick's life the most: farming and the burgeoning Vermont ski industry. The former of which was in its early decline and the latter ascending. Dick loved Joe Sherman's book "Fast Lane on a Dirt Road" that chronicles this conflict -- a portion of the book taking place in the Mad River Valley.
Farming gave Dick his love of animals (particularly dogs and cows) and an aversion to seeing any animal suffer. He made sure his kids experienced the farm life while gardening and raising a variety of livestock in the 70s and the 80s. The animals were harvested every fall, teaching his kids the commitments of caring for them but also the circle of the local food chain and the value of good home-grown food (way before farm to table).
The ski industry had a huge impact on Dick's life. He learned to ski at Mad River Glen in a program where local kids were bused to the mountain midweek, provided with equipment and taught by professional instructors. He would later compete on the high school level when athletes had to partake in all three disciplines of Nordic, alpine and jumping. He remembered a Norwegian coach (Karri Torkle) who found some old 10th Mountain Division surplus skis and took them to Ryford Joslin's wood shop to cut them to regulation width. The community organized local donations (lumber from Baird's Mill) and labor to build a ski jump at the Couples Club field in Waitsfield.
Dick attended an engineering program at the Southern Technical Institute after graduating from Waitsfield High School (class size of 17) on a scholarship provided by Waitsfield Telecom but eventually found Marietta, Georgia, (not a welcoming place to a Yankee boy in 1962) and engineering were not his path.
Returning to Vermont, Dick went to work for Fred Pabst at Bromley Mountain, a south-facing ski area that was an early adopter of snowmaking technology. As head of snowmaking he was a dashing figure atop snow cats, bulldozers and, of course, skis. In 1967 (the Summer of Love) he met a striking ski instructor (Constance née Campbell) who he would marry and eventually they moved back home to the Mad River Valley where Dick pursued a career in the insurance business. The timing was perfect. The Mad River Valley had three popular ski areas and the economic growth helped him start a career in 1969 and eventually launch his own agency in 1977. Dick was very proud of his achievements in the business including leading his industry trade group and growing a successful legacy business that his son would eventually purchase from him in 2003. The career in insurance also made it possible to serve his community as a select board member, member of several municipal boards, founding member of Mad River Valley Rotary, and serving on the Chittenden Bank board. He served his country and state as a member of the Vermont Air National Guard -- Green Mountain Boys.
After retiring from the insurance business, Dick and Connie followed their ski habit to Park City, Utah, where they joined old friends from the industry. He enjoyed many winters living in Park City hosting his kids and grandkids, providing them with a home base for skiing and road trip adventures of the West. The family spent many special summers at Moot Point on North Hero, VT. Dick's other passions included cars, boats, good food and drink and especially meeting strangers (much to his family's chagrin). He was well known for his gift to 'gab' and was fondly referred to as the 'mayor of the parking lot' during his days in the insurance business. After his daily trip to the post office, he would often be found deep in conversation with clients, friends and anyone who passed by. Dick's friends and acquaintances appreciated his wealth of local knowledge and his love for telling stories about his days growing up in the Mad River Valley. Many remember his gregarious radio ads on WDEV, including the memorable musical jingle and slogan "Dick Jamieson - Insurance Guy!"
He will be missed by Connie, his loving wife of 55 years, siblings David (Linda Sue), Larry, Judy and Don; children Jon (Amy) and Krissa (Dan Harwood); grandkids Isabel, Eli, Oliver, Anna, Luke and Ethan who fondly referred to him with the nickname "Grumpy".
A memorial service will be held in Waitsfield later this summer.
Donations in his memory can be made to the American Heart Association at www.heart.org and the Lake Champlain Land Trust www.lclt.org.