Arthur Edward Chamberlin
1942-2022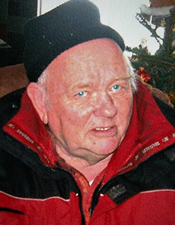 Arthur Edward Chamberlin, 79, lifelong resident of Duxbury, passed away unexpectedly at his home on Stevens Brook Road on Wednesday, June 22, 2022. Born in Duxbury, Vermont, on November 28, 1942, he was the son of the late Frank and Cora (Shonio) Chamberlin.
Arthur spent his entire life in Duxbury. As a young man, he worked on his family's chicken farm on Stevens Brook Road. Later, he became a self-employed carpenter, mechanic, and then enjoyed logging in Duxbury. His hobbies were auctions, lawn sales, racing coupes at Thunder Road, and enjoying the local racing scene.
He is survived by his children, Nancy Chamberlin and her partner Chris Sanville, of Craftsbury; Danny Chamberlin, of Moretown; Dwayne Chamberlin and his wife Angie, of Williamstown; Steven Tracy and his wife Brandi, of Williamstown; his grandchildren Tim Durand, Betty Ann Durand, Kim Durand, Thomas Chamberlin, Storm Chamberlin and Kayla Chamberlin; 10 great-grandchildren; nieces; nephews; and extended family. He is predeceased by his son, Dale Chamberlin, and three brothers, Harold, Frank, and Richard Chamberlin.
A celebration of Arthur's life will be held on Thursday, June 30, at noon, in the South Duxbury Cemetery. In lieu of flowers, memorial gifts would be appreciated to the Duxbury Foodshelf. Perkins Parker Funeral Home and Cremation Services in Waterbury is assisting the family. To send online condolences, visit www.perkinsparker.com.