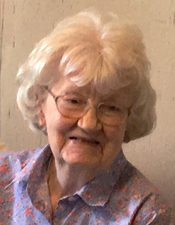 Ella Mae Long Tewksbury, 102, died peacefully on September, 18, 2022 at Menig Nursing Home, her family by her side.
She was born on August 18, 1920, in Beverly, MA. Shortly thereafter, her parents, Milford and Edna Long, returned to their home in Waitsfield, VT.
In 1939, after graduating from Waitsfield High School, she came to Randolph for nursing training at Gifford School of Nursing. In Randolph, Ella met and married Ellsworth Tewksbury. With the beginning of World War II, Ellsworth entered the service and was a medic at the Army Air Force Base in Kingman, AZ. Ella continued her schooling and completed her registered nurse training in 1942. She joined her husband in Kingman where they lived for the duration of the war.
Returning to Randolph in 1946, Ella and Ellsworth soon moved to their Terrace Street home where they eventually raised a family of four sons and a daughter. They arranged their work so that someone was always home with the children. Ella frequently worked the night shift at Gifford until becoming the evening supervisor at Tranquility Nursing Home. Later in life, she was a nurse for Tewksbury Ambulance Service and for the Steven Patrick Christian Manor, a residential school for children and youth with disabilities established by Ellsworth and Ella.
In 1960, Ella and Ellsworth started Metro Answering Services at their home with a tabletop of dial-up phones, one for each business. Eventually, as Metro expanded, these phones were replaced by a plug-in switchboard, now a featured exhibit at the Randolph Historical Society. In 1962, Metro started dispatching for the Randolph Village Fire Department and in 1983 added the fire departments of Randolph Center, East Randolph, and Brookfield. Ella had over 30 accounts with local professionals and businesses and monitored alarm systems for area banks and companies.
When Ellsworth died in 1979, Ella decided that instead of returning to nursing she would continue with Metro. She promised herself that she would "not feel tied down" and made a list of all the advantages to running this 24-hour answering service at home. The perks ranged from being her own boss to having plenty of time to read, garden, do craft projects, and carry out a personal "ministry" of cooking meals for others in need. The chocolate cream pies she made for fundraisers were sold out before they were delivered. She hosted church meetings at her home and often friends and family would gather there for other events. Ella professionally operated Metro for 42 years and retired in 2002 at the age of 82.
After retirement, Ella traveled frequently with her sister, Elizabeth Munn, and they had many great adventures together. She spent a month traveling in Thailand with her son and daughter-in-law.
In 2013, Ella moved to the Joslyn House where she enjoyed living independently in a warm, social community so ably managed by Arlene, Allen and Becky Wright. In 2019, needing more assistance, Ella moved to Menig Nursing Home where she received exceptional care from a warm, considerate, and professional staff. She always said the meals in the two homes were excellent and her favorite recreation in both was bingo.
Above all else, she cherished her family and will be most remembered for her kindness, positive attitude, and love. She was Oma to her grandchildren who treasure their memories of playing and sometimes staying with her at her Terrace Street home.
For years, Ella was an active member in the Vermont Tres Dias community and the Green Mountain Gospel chapel. A Life Member of the Order of the Eastern Star, she was honored for her 80 years of membership in 2018. She raised funds for the Randolph Senior Center with what became known as the Ella Tewksbury Walk for Healthy Aging.
Ella was predeceased by her husband, Ellsworth. She is survived by five children: Martin Tewksbury and wife Bonnie Kawecki of Catonsville, MD, John Tewksbury and wife Deborah of Randolph, James Tewksbury and wife Sheryl of Randolph, Marla Edson and husband Russell of Worcester, and Steven Patrick Tewksbury of New Lexington, OH; seven grandchildren and 11 great-grandchildren.
A celebration of life was held at Green Mountain Gospel Chapel in Randolph on Saturday, October 1. Private funeral and burial services took place at Day Funeral Home and Pleasant View Cemetery with Rev. Ronald E. Rilling on Sunday, October 2, and Monday, October 3. Donations can be made in Ella's memory to Joslyn House or Menig Nursing Home.
Online condolences may be left at www.dayfunerals.com