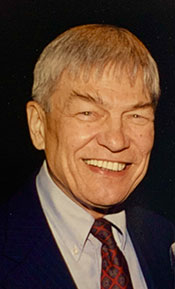 Rudolph John Skalka, 90, of Princeton, NJ, passed away at home, surrounded by his loving family.
Born in New York City to Julius and Pauline Skalka, Rudolph was a graduate of St. Ann's Academy and St. John's University. He began his professional career with the accounting firm of KPMG (Peat, Marwick, Mitchell & Co.) after returning from France while serving in the U.S. Armed Forces from 1954 to1956. A licensed New York State certified public accountant, he was a financial executive for several companies, retiring from AMREP Corporation as vice president of finance in 1995. Since then, he was a private financial consultant to several NY Stock Exchange companies and a member of the boards and chair of the audit committees for Onconova Therapeutics, Inc. and the Catholic Charities of Trenton.
Rudy and his wife, Anna Marie Sturn Skalka (Annie), were members of Princeton University's Aquinas Institute, and more recently of Saint Charles Borromeo's parish in Skillman. A lifelong athlete and avid sportsman, he enjoyed canoe camping, golf, cycling, and especially skiing, the love of which he passed on to his daughter, Jeannemarie, and his son, Christian. One of the original shareholders of the Mad River Glen Co-op in Vermont, he and his family spent many holidays hiking and skiing in the mountains. For his wife, Annie, he was an anchor of strength, love, and best friend. For his two children, he was a source of unconditional love and a model of personal integrity.
Predeceased by his parents and brothers, Paul Skalka and his wife Doris and Robert Skalka, Rudy is survived by his wife of 62 years, his children, his daughter-in-law Susan Skalka and son-in-law Alan Calfee; his grandchildren, Kazimir and Shiloh; his sister-in-law Barbara Skalka; and his nieces and nephews, Gerald, Paul, Doris, Catherine and Mary. Rudy is also survived by extended family and friends.
Calling hours are Thursday, October 13, 2022, from 5 until 7 p.m. at the Mather-Hodge Funeral Home, 40 Vandeventer Avenue, Princeton, NJ.
The funeral will be held 9 a.m. on Friday, October 14, 2022, from the Mather-Hodge Funeral Home, 40 Vandeventer Avenue, Princeton. A Mass of Christian Burial will be celebrated at 10:30 a.m. at St. Charles Borromeo Roman Catholic Church, 47 Skillman Road, Skillman, NJ 08558 with burial to follow at Princeton Cemetery.
In lieu of flowers donations may be sent to Hands Together, P.O. Box 80985, Springfield, MA 01138 or to Catholic Charities of Trenton.