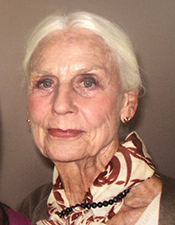 Virginia Goodfellow, age 93, a longtime resident of Warren, Vermont, passed away peacefully on Saturday, October 15, 2022, while visiting her daughter in Scottsdale, Arizona. Virginia was born on October 3, 1929, in Trenton, New Jersey. She was the daughter of J. Phillip and Helen Bruere Larson of New Hope, New Jersey. Virginia was previously married to Holly Ward and Charles Goodfellow.
Virginia grew up in Bucks County, Pennsylvania, and some of her best memories were of childhood days along the banks of the Delaware River. After attending Boston University, Virginia moved to Warren, Vermont, where she settled for the rest of her life.
Virginia had a keen sense of adventure and enjoyed travel. Aside from numerous trips to Europe for sightseeing or attending a horse event, when she was 88 years old, she traveled with family to New Zealand at Christmastime, to visit her eldest granddaughter. This turned out to be one of the highlights of her later life, and gave everyone wonderful memories.
Much of Virginia's life centered around her great love of horses. She was quick to drop whatever she was doing to head out with friends to a horse show, to watch a lesson, or simply to look at a stable. As long as horses were involved, she was happy! Virginia was also a big fan of the Sugarbush Polo Club, and you could always count on seeing her Sunday afternoons at a local polo match. She knew most of the players by name, and the horses as well! Virginia enjoyed many years of riding herself, including exciting times foxhunting in Vermont, and Ireland. Virginia had many good friends in the area, and her door was always open for someone to stop by and visit, no matter what time of day. She will be dearly missed.
Virginia was predeceased by her daughter Kadi Ward Gilbert. She is survived by her daughter Gail Ward-Gould of Scottsdale, Arizona, and her two grandchildren, Sarah Gilbert of Christchurch, New Zealand, and Caroline Smith of Bend, Oregon. A Celebration of Life will be held at a later date. In lieu of flowers, donations can be made to the Muscular Dystrophy Association online at www.mda.org.