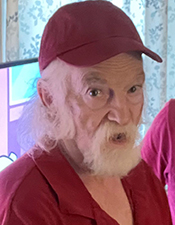 Richard Ernest Rounds, 74, of Fayston, Vermont, passed away unexpectedly on Wednesday, November 30, 2022. Born in Sherburne, Vermont, on November 1, 1948, he was a son of the late William John Rounds and the late Lillian (Aldrich) Rounds.
Richard was a lifelong resident of the Mad River Valley. He attended Warren Elementary School and Waitsfield Elementary School and High School. He was well known in the area for his amazing stone and brick work.
He pursued masonry as a career and began working for Rodney Allen Masonry in Northfield primarily doing residential work. He then moved on to doing large-scale commercial masonry projects for HOK Masonry, Inc. and H.B Cummings and most notably working on IBM and Church Street in Burlington, Vermont. His work continued for S. G. Phillips in Waitsfield for the next 11 years. This job allowed him to travel around Vermont and New Hampshire building water and sewer treatment plants. Having gained the skills as a very talented mason Richard began his own business, Richard Rounds Masonry Contractor, Inc. in the late 1990s. This allowed him to be closer to home and continue doing what he loved. Over the last 30 years he worked independently and as a subcontractor for such companies at Brother's Building and Austin Builders. His most notable project was The Farms at Sugarbush.
All while building his masonry business, he was also building his own home. His journey began in 1979 with the help of friends and family but mainly with his own hands transforming his home throughout the years adding on with his signature brick creations. His home was his haven, being a private man in nature, he found solitude and peace where he resided.
Richard is survived by his three children: William Rounds and his wife Carey of Waitsfield, Richard Rounds and his wife Christina of St. Louis, MO, and Carin Lee and her husband Johnny of West Bainbridge, NY; four grandchildren, Kane Rounds, Emily Rounds, Joseph Rounds, and Kayla Millett. He is also loved and mourned by his companion, Susan Rounds.
A private family burial will be planned for a future date. In lieu of flowers, donations may be made to the Mad River Valley Ambulance Service, 4177 Main Street, Waitsfield, VT 05673. Assisting the family is Perkins-Parker Funeral Home and Cremation Service in Waterbury. The family invites people to share memories and condolences by visiting www.perkinsparker.com .