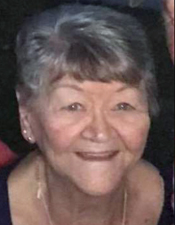 Ann Karen "Momma" Mayo, 86, of Middlesex VT, slipped her earthly bonds in the early morning hours of November 16, 2022, with Elvis softly crooning in the background as the first snow of the year gently fell.
On November 14, 1936, Karen and her twin sister Sharon made their grand debut in Cumberland, MD. She and Sharon were numbers three and four of six born to Dorothy Delores (Shercliff) and David Conley.
Karen attended schools in Cumberland, graduating in 1956 from Alleghany High School.
After graduation, she and Sharon made their way to Washington, DC, where they were recruited to work for the federal government. This started a 26-year career working at the Pentagon, and both Andrews and Bolling Air Force bases.
While working at the Pentagon, her first child, Michael, was born. Soon after, Larry and Stephen joined the crew. Finally, her little girl, Cheri, was born, completing their family.
Upon retirement, Karen and Cheri packed all of their belongings and made the move to Florida. It was here that Cheri welcomed her daughter, Leighann, in 1998. Karen helped to care for and raise Leighann, taking daily adventures and shenanigans, until her move to Vermont in 2012, where she lived with Mike and his wife Kelley. For the past 10 years she has lived with them making numerous friends who quickly became family.
Known as Nanny to her grandchildren, they were the apple of her eye and she theirs. She loved all of her grandchildren and loved to brag about them to anyone who would listen.
Karen is survived by her daughter Cheri and her fiance Michael of Murfreesboro, TN; her sons, Michael and his wife Kelley of Middlesex, VT, Larry of Tennessee and Stephen and his wife Tracy of Colchester, VT; her brother Buck of Cumberland, MD; eight grandchildren, Christie, Ryan, Leighann,Veronica, Christian, Larry Jr, Evan, and Nicholas; six great-grandchildren; numerous nieces, nephews and cousins as well as an extended family in Vermont who loved her dearly and whom she loved right back as her own.
A burial will be held in the spring in Cumberland, MD. A local service in Vermont will be announced at a later date.
For those wishing to make contributions, the family asks that they be made to the Waterbury Senior Center, Meals On Wheels program, 14 Stowe Street, Waterbury, VT 05676.