Wade Thompson Morse

March 24, 1940 – November 13, 2022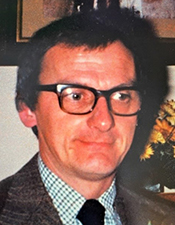 Wade Thompson Morse, 82, a lifelong resident of Duxbury, passed away at Chestnut Place in Berlin on Sunday November 13, 2022. Born in Burlington on March 24, 1940, he was the son of the late Ralph C. and Sylvia M. (Goad) Morse. He was previously married to Maxine "Mickey" F. (Fernandez) Rouelle. On October 29, 1982, he married Susan Ann (DeForge) Thayer in Waterbury who predeceased him on December 26, 2016.
Wade was a 1958 graduate of Waterbury High School. In his youth he served on the Sugarbush ski patrol where he fell in love with skiing. He started his working career owning and operating several local service stations in Waterbury. In his early 20s Wade proudly raced his own car 'Number 62' at Thunder Road in Barre. Before founding his own automotive repair business at the corner of Routes 2 and 100 in Moretown, Wade's Auto Service, he worked as a deputy sheriff for the Washington County Sheriff's Department. As a lifelong entrepreneur, he founded Mountain Valley Enterprises and owned and operated many other small businesses over the years under it. His last venture was owning and operating an Arnold's bread route for several years. Upon selling, Wade continued to work at the bakery and drop in the office until health issues prevented him from continuing.
Wade served in the Vermont Army National Guard and was a member of the Waterbury Rotary Club. He also served the community of Duxbury as town moderator for 32 years, following his father's 30 years of service. Wade was elected to the select board for the town and worked as the road foreman in the early to mid-1980s. In his leisure time, he enjoyed brook fishing, maintaining his property, and had a love for animals that started as a young boy with his farm animals, then later with his many cats and dogs. Wade loved to read all the local newspapers, often with WDEV on in the background.
Wade is survived by his children, Wendy Welch and her husband Jim of Duxbury, Eric Morse of Berlin; his stepchildren Nicole Thayer of Duxbury, Michael Thayer and his wife Jennifer of Barre; seven grandchildren Caleb, Courtney, Deseriee, Connor, Cody, Madison and Jaiden; two great-grandchildren; his brother-in-law Gerald Marshall of Duxbury; as well as nieces, nephews and extended family. Wade was predeceased by a sister, Barbara Marshall.
Graveside services will be held from the Duxbury Corner Cemetery in the spring of 2023. For those who wish, memorial gifts in Wade's name may be made to the Central Vermont Humane Society, P.O. Box 687, Montpelier, VT 05601 or online at centralvermonthumane.org. Assisting the family is Perkins-Parker Funeral Home and Cremation Service in Waterbury. To send online condolences, visit www.perkinsparker.com.