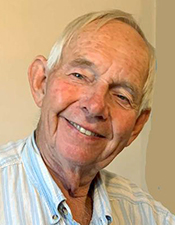 Robert Vail Huss, beloved husband, father and grandfather, passed away peacefully at home on November 3, 2022. He was 84 years old. Bob is survived by his wife, Liz Huss, his daughters Beth Young and Barb Rush, sons-in-law Bob Young and Ron Rush, grandchildren Amos Gaylord, Ben Rush, Brendan Gaylord and Cally Young and great-granddaughter Mya Gaylord.
Bob and Liz moved to The Valley with their two young daughters in 1975. He taught physics and chemistry at Harwood Union High School and then moved on to teach computer programming at Champlain College until he retired in 2000. During his years in The Valley he was an avid Mad River Glen skier, he coached the Harwood alpine team for many years, he was a member of the Masons, the Rotary and the Mad River Valley Ambulance Service.
One of his favorite activities in The Valley was sugaring every spring. He was proud to give his syrup away to friends and family every Christmas. His biggest joy in life was his family and "Grey Grey" was loved by all.
Funeral services will be held Saturday, November 19, at 1 p.m. at St. Andrews Church Episcopal Church with a reception immediately following in the parish hall. In lieu of flowers, donations may be made to St. Andrews Church, P.O. Box 1287, Edgartown, MA 02539 or Hospice of Martha's Vineyard, P.O. Box 1748, Vineyard Haven, MA 02568 in his memory.