John Bernard Phelon
May 19, 1942 - October 31, 2022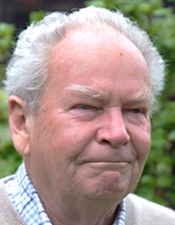 John Phelon (80) died peacefully at home after a long illness. He leaves his wife Judith Winter Phelon, his sisters Barbara Deets of Ft. Orange, Fl, June Peat of Chester, VA. and Kristine Hughes of Kill Devil Hills, NC; his sisters in law: Ann Winter Zeidler, Tampa, FLl his friend and confidant, Elizabeth McCarthy of Huntington Sta., NY, and their families. He was predeceased by their son, Proctor Ryan Phelon. (1992).
John (Johnno to family) grew up in Wilbraham, MA, but was the child of generations of Vermonters, a Dorset heritage that made him proud. His dry wit was certainly that of a Vermonter slowly delivered and uproariously funny.
He attended Carson Long Military, Stonehill College and U.S. Coast Guard Reserves.
John joked he was a "charter member of the Alpine Development." His mother gave him a free lot she won at the Springfield Exposition (MA) thus beginning many years spent skiing in Vermont. He would laugh that he was "the tennis pro at Sugarbush before Ken Rosewall" with a wink to his skill level vs Mr. Rosewall's.
After the death of Jack Murphy, his best man and then general manager of Sugarbush, John started the Jack Murphy Memorial Tennis Tournament which filled the then new Sports Center for many years of fun and camaraderie. And, to honor his son Proctor, he made small canoe paddles "Proctor's Paddle" became a coveted award for the Fastest Canoe in the River at many Sugarbush Triathlons.
In the 1970s, John started Middlesex Real Estate, and had many other real estate-related jobs before joining his wife's firm: Law, Phelon & Associates Real Estate.
John was a tennis player first but also a decent skier, squash player and golfer who had moments of greatness and defeat but always laughter. Sunday tennis and most recently bi-weekly golf games were often followed by beers and ridiculous banter and critique.
His great love of music carried him through many obstacles in life. His friends loved to be with him when he emceed his favorites from Hank Williams, Willie Nelson and Emmy Lou Harris. John became a woodworker over the years. He and Judy started with a hand-me-down bag of tools and ended up renovating two houses and building a camp. In his later years, he turned out beautiful cutting boards and various gizmos for friends ultimately making Shaker-style furniture.
John joined the Wooden Canoe Heritage Association for fun, after restoring some early wood and canvas canoes by Old Town and Carlton and with the help of his good friend Jim Henry (Mad River Canoe) built a wood strip canoe.
"Red Truck" -- his 1947 Chevy was instantly recognized around town, and no one was happier than John behind the wheel especially when riding in the Fourth of July parade.
We are so grateful for our loving friends who have held us, fed us, made us laugh and cry through the time in home hospice. We never knew how many friends we had. We are so lucky. Memorial service: Friday, November 11, 2022, 11 a.m. Warren United Church, 339 Main Street, Warren, VT 05674. Reception following: Warren Town Hall. For those who wish, memorial gifts would be appreciated to Central Vermont Home Health & Hospice, 600 Granger Road Barre, VT 05641 (www.cvhhh.org/donate) or the Mad River Valley Community Fund, P.O. Box 353, Waitsfield, VT 05773. To send online condolences, visit www.perkinsparker.com.