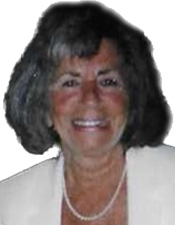 Anne Stoddard passed away on February 3, 2023, in Stratford, Connecticut. Anne was born to the late Ida and Harry Dermer in Providence, Rhode Island, on May 17, 1932. She attended Hope High School and then Brown University (Pembroke College), where she majored in French Literature, graduated summa cum laude, and earned entry into the Phi Beta Kappa Society. Following her graduation in 1954, she married Ralph Stoddard, whom she had met while at Brown. With Ralph's enlistment in the Air Force, they spent their first years of marriage in a variety of locations, including Lackland AFB in San Antonio, Texas, and Ellington AFB in Houston, Texas, and Travis AFB in California. With the completion of Ralph's service time, they moved to Teaneck, New Jersey, then to New York, starting in Flushing, moving to Bayside in Queens, and, as their family grew, ultimately settling in the town of Manhasset on Long Island.
In 1977, with the children mostly grown, Anne began working as a claims examiner for the New York State Insurance Fund, on Church Street in Lower Manhattan. Upon her retirement from the State Fund in 1994, she and Ralph moved to Waitsfield, Vermont, to a mountainside house that they had designed together. Anne became very active in the Waitsfield community, joining various book groups, volunteering at the library, serving in various roles for their Neighborhood Association, and becoming a mainstay at the local coffee shop.
Throughout her life Anne was well known and beloved for her gregarious nature, humor, and storytelling. She could recall and regale with great accuracy and humor specific conversations and dates from as far back as her childhood and college life. While Anne was well known for her intellectual tastes, able to quote various poets and philosophers and identify an astounding assortment of classical compositions, she will be equally remembered for the joy she experienced from listening to Dixieland jazz, and singing along to the Rolling Stones.
Anne was preceded in death by husband Ralph, and brother Zigmund. She is survived by son Paul Stoddard, daughter Ellie Stoddard and husband John Harrington, along with grandchildren Emily and Benjamin Andrade, and son James Stoddard and wife Sinta, along with grandchildren Julia and Claire Stoddard.
A Memorial Service will take place at the Waitsfield United Church of Christ in Waitsfield, Vermont, at 11 a.m. on June 3, 2023, preceded by private inurnment at the Waitsfield Common Cemetery. In lieu of flowers, please donate to the Mad River Valley Community Fund at mrvcommunityfund.org.