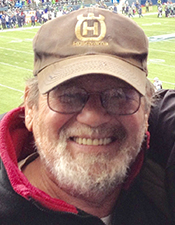 Richard "Rick" Graham passed away peacefully January 16, 2023, in Glenwood Springs, Colorado, with his children and grandson at his side. Rick was both fortunate and appreciative of the fact that he lived life on his terms until he didn't. Towards the end he stated many times he was happy and proud of the life he lived.
He was born in Montpelier on September 30, 1940, the third of seven children born to Hershel and Mildred (Richardson) Graham. After graduating from Montpelier High School in 1959, Rick went on to be an extremely skilled master carpenter and ski instructor. He took great pride in his work as a carpenter but, perhaps, took more pleasure in holding the fastest descent time down the Organgrinder trail at Sugarbush South, a record he may still hold.
Rick was an avid fisherman and hunter. In his later years he was the proprietor of North Country Sports in Barre, a small hunting and fishing store. Rick took so much enjoyment in the camaraderie and love for those sports he shared with his customers.
Of all Rick's accolades and achievements, there was nothing he was prouder of than his children and grandchild. He would also want it acknowledged how much he loved all his dogs.
A memorial service is being planned for May in Worcester, Vermont.