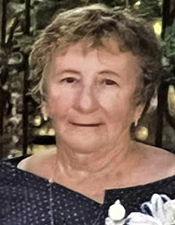 Anna M. Karl formerly of Hopatcong, NJ, passed away peacefully on Saturday, February 11, 2023, at The House of the Good Shepherd Care Center in Hackettstown, NJ. She was 92 years old. Anna was born on February 14, 1930, in Jersey City, New Jersey, to the late Henry and Matilda (Rurade) Mitchell.
Anna and her late husband, Howard, were longtime residents of Hopatcong, NJ, and then moved to Alburgh, Fayston and Granville, Vermont. While living in Vermont, Anna and Howard owned and operated a small country store. After selling the store and moving to Fayston, Anna was employed as a bookkeeper for the Green Mountain Valley School in Waitsfield.
After retiring from GMVS she and Howard moved to Granville where they would spend summers enjoying Vermont's beauty, and winters RVing at Almost Heaven Campgrounds in Manvel, Texas. They eventually moved to Manvel full time and spent several years working at the campground.
After Howard was diagnosed with Parkinson's, they chose to move to Ooltewah, Tennessee, to be closer to family. They spent several years in Tennessee before deciding to move to The House of the Good Shepherd retirement community in Hackettstown, New Jersey.
While at HOGS Anna enjoyed volunteering as the treasurer of the resident's association, helped to organize and run the resident store, helped organize craft fairs to raise money for the employee fund, as well as volunteering in the chapel during mass.
She enjoyed skiing (water and snow), gardening, reading, walking, knitting, doing puzzles, volunteering as well as RVing, boating, fishing and swimming on both Lake Hopatcong, New Jersey, and Lake Champlain in Vermont. One of her favorite times was spending Sunday dinner with family. All 29 members of her family gathered three years ago to surprise her on her 90th birthday.
Anna is survived by her daughters Kathryn (John) Liebenow, Cape Coral, Florida, Lorraine (Mike) Flora, Stanhope, New Jersey and Jeanne Lorito, Mansfield Township, New Jersey; her cherished grandchildren, Michael Flora Jr. Stillwater, New Jersey, Brian (Tracy) Liebenow, Essex Junction, Vermont, David (Cas) Liebenow, Barre, Vermont, Nicki Flora, Hardwick, New Jersey, Amy (Nick) McAllister, Atoka, Tennessee, Jennilee (Eric) Lorito, Kenvil, New Jersey, Daniel (Joanna) Flora, Byram, New Jersey and Katelin (Joe) Lorito, Succasunna, New Jersey; and her 13 great-grandchildren. Anna was predeceased by her beloved husband, Howard, in 2011.
Anna's family is planning a memorial tribute to both she and Howard at a later date in Vermont. Her family plans to honor their love of Vermont by revisiting where they lived, worked and played: where they created many lifetime memories of spending quality time with family.
For memorial donations, please consider St. Jude Children's Research Hospital, www.stjude.org or The Eleventh-Hour Rescue, www.ehrdogs.org