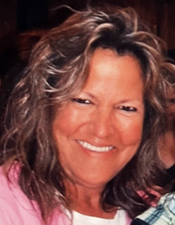 Maureen Annette Urell, age 73, passed away April 1, 2023, surrounded by her loving family. She was born November 16, 1949, in Pittsburgh, Pennsylvania to James and Anna Watkins. She attended the Art Institute of Pittsburgh for fashion illustration and was recognized for her skills in seed-beaded purses.
She moved to Warren Village in 1974 with her first son, Max. There she created a new home surrounded by many friends. She always said, "It takes a village to raise a child," and those words were never truer than with Max and the wonderful community that surrounded them.
Maureen married Thomas Urell and moved to Duxbury in 1986. There they had two sons, Tommy and James, raising them on Dowsville Road with a love of the outdoors, family dinners, and close friends. She was the longtime owner of Cheap Thrills, a thrift store in the MRV for over 20 years. Eventually, she purchased the Bridge Street "blue building" and Cheap Thrills found its iconic home. Despite living in VT, Maureen always had a deep connection to her hometown roots of Pittsburgh, as was evident anytime the Steelers played and the terrible towel came out.
Maureen is remembered for her infectious laugh, her sense of humor, her kindness and acceptance of all who wandered through the doors of Cheap Thrills throughout the years.
Maureen is survived by her sons Maxwell Popowicz (Duxbury, VT), Tommy Urell and James Urell (Bozeman, Montana); daughter-in-aw Sarah Popowicz and grandsons Wyatt and Sawyer Popowicz; and former husband Thomas Urell (Ennis, Montana). Maureen is also survived by her sister Carol Watkins, her Aunt Catherine Tripodi and the extended Tripodi family (Pittsburg, PA).
Friends and family will be invited to attend a celebration this summer to honor
Maureen's life and the lives she has touched.