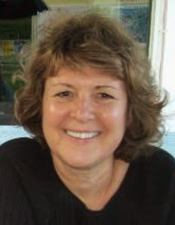 Anne Burgess Dillon, 64, died unexpectedly on March 29, 2023, following a brief illness.
Anne was born in Summit, New Jersey, on September 11, 1958, the daughter of John A. Dillon Jr. and Susan S. Dillon.
Some of Anne's fondest early childhood memories were at her grandparent's camp at Tabor Lake, New Jersey. She began visiting Vermont in her teens. Summers were spent hiking and swimming in the Mad River Valley. On winter weekends, the Dillons loaded into the family van for the six-hour trip to ski at Mad River Glen. Anne, sister Kate, and close friend Barb Clayton were just as likely to be found in the base lodge drinking hot chocolate as out on the slopes.
At Ridge High School in Basking Ridge, New Jersey, Anne played varsity tennis, a sport she continued to enjoy for decades. She attended Saint Lawrence University, graduating with degrees in English Literature and Art History in 1980. With her dear college friend and devoted Scrabble partner, Amy Christie, Anne spent a semester in Kenya, sparking her enduring love of wildlife.
After graduation, Anne worked in New York City as a film publicist for MGM, Twentieth-Century Fox, and the Peggy Siegal Company, promoting A-list talent for myriad films. Later she was director of development for Fred Berner Films, also in New York. Some of the productions she worked on included "The Ballad of Little Jo" and "Vanya on 42nd Street." Anne helped produce Hanna Polak's award-winning documentary, "Something Better to Come," a film chronicling the plight of a homeless child in Russia.
Anne married John Major in 1986. Though they divorced, they remained close throughout her life.
After the death of her father in 2004, Anne moved to Vermont, joining the rest of her family in Waitsfield. For eight years, she was an in-house editor at Inner Traditions and Bear & Company, one of the largest and oldest publishing houses in the world devoted exclusively to new-age spirituality, holistic health, and natural medicine.
After leaving Inner Traditions, Anne continued to work as a freelance editor. This allowed her more time to dedicate to her true passion, elephant conservation. She took on the role as a news service administrator for the Kenya-based organization Save the Elephants. Anne was the communications director for the annual global World Elephant Day campaign since 2013 and she was one of the founding directors of World Elephant Society, World Elephant Day's public charity. She was instrumental in getting legislation passed in Vermont banning the sale of ivory products. She also contributed her public relations skills to 350 Vermont and other wildlife and environmental conservation groups.
Anne was an active member of Christ Episcopal Church in Montpelier where she met her partner Steve Reynes, a church deacon. Their loving relationship included spending quality time hiking, skiing, playing tennis, and enjoying movies.
Anne also had a special relationship with her sister-in-law, Sue Dillon who provided Anne with tremendous support, especially in the last few months of her illness.
Anne was predeceased by her father, John A. Dillon Jr. She is survived by her mother Susan S. Dillon, siblings Kate Ryley and husband Donny, John Dillon and wife Sue; nephews Jake Ryley, Matt Ryley and wife Julie; James Dillon and partner Liz Rocco; niece Caroline Dillon and husband Jack Greenwood; and grandnieces Emma, Maddie Grace, Carley, and Ruby Ryley.
There will be a celebration of Anne's life on May 6 at 10 a.m. at Christ Episcopal Church in Montpelier, Vermont, with a reception to follow. For those who cannot attend in person, the service will be live streamed on https://tinyurl.com/Funeral-link
In lieu of flowers, donations can be made to the following:
World Elephant Society at www.worldelephantday.org
Save the Elephants at https://www.savetheelephants.org/new-donate-page-US/
Columbia University Lyme and Tick-Borne Diseases Research Center at https://www.columbia-lyme.org/make-gift