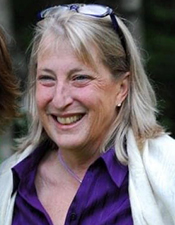 Pamela Stone Kennedy passed away peacefully on Monday, April 17, 2023, at Dartmouth Hitchcock Medical Center surrounded by her family.
Anyone who knew Pam knew how much love and appreciation she had for life and those with whom she surrounded herself -- and even as she struggled in recent years with her disease, she continued to prioritize surrounding herself with love, laughter, and joy. Pam knew what it was to love and be loved by others.
Over her lifetime, one of her greatest achievements was the impact she left on countless children -- from the after-school and ski programs that she ran, to Sunday School and youth groups at the Waitsfield, Warren, and Waterbury Congregational Churches, and to the countless others she welcomed into her life through her own children and granddaughter -- she influenced the lives of hundreds of children. She taught others to embrace life and led by example, always.
So today, she is survived by her husband, Michael Kennedy of Colchester, VT, and Davenport, Florida; daughter, Tristan Kennedy Upson, son-in-law, Ed Upson, and granddaughter Eliza Kennedy Upson of Grantham, NH; son, Mak Kennedy, daughter-in-law, Caitlin Marassi Kennedy, and future grandson, Thomas Bridger Kennedy of Colchester, VT. But she is also survived by all those whose lives she touched and made richer for the experience. Know she truly loved you all.
In lieu of flowers, donations can be sent to organizations that support the well-being and enrichment of children, including Whaleback Ski and Ride Programs or St. Jude's Children's Hospital. And in true Pam form, in lieu of a funeral a celebration of life will be held this summer at her beloved camp on Mallets Bay.