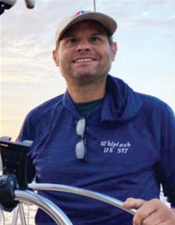 Christopher Seiler, 54, of Warren, Vermont, passed away with his wife Ani by his side on April 10, 2023, at the UVM Medical Center.
Chris was a lifetime skier and sailor, but not the fancy kind. These pastimes took him on excursions-on-a-dime around the U.S., Europe, the Bahamas, and South America. He crewed for many years racing Etchells sailboats on Lake Champlain, Marblehead, and he even competed in the Etchells Worlds. Chris did things. He never waited for people to show him the right way to do something, he just figured it out on his own, whether it was how to navigate around a foreign country, fix an outboard or build and fly RC planes.
Chris and Ani loved an adventure. They traveled extensively around the United States and Europe, always discovering special secret places with beautiful scenery and perfect meals. They loved to arrive in a new place and just explore, often heading off the beaten track. Chris was never lost, even if he sometimes didn't know exactly where he was.
To say that Chris had a green thumb would be an understatement, but his gardens were a bit like him, rebellious and not concerned about appearances. His asparagus jungle was legendary and the asparagus seedlings he loved to share with friends are growing far and wide.
To earn the status of a Kansas City BBQ Society Judge, Chris worked hard to refine his palate, allowing him to travel throughout the Northeast eating pounds of BBQ'd meat in a single sitting. He loved food. His renown among his family as the Pierogi King for his remarkable pierogis just scratches the surface of his culinary exploits. He loved nothing more than spending an evening in the kitchen cooking with Ani with the Red Sox on in the background, or finding a hole-in-the-wall diner with a great menu whenever they traveled.
Chris loved being on the water and even after he got sick, he searched for their dream boat and found it, a Boston Whaler. He and Ani loved to cruise around the coast of Maine where one of his favorite things to do was to glide up to a lobster pound and pick up dinner. Chris truly believed in living life.
Chris spent his working career as a software engineer, primarily in the medical and banking sector serving as an independent contractor for companies around the Northeast and NYC.
Chris is survived by his wife and partner in experiencing all life has to offer, Ani Lutz, his sister Kimberly Devlin, his mother Maxine Robichaud, and his father Charles Seiler.

There will be a celebration to remember Chris later this summer and, of course, everyone will be encouraged to wear their favorite Hawaiian shirt.
In lieu of flowers please spread some kindness in Chris's honor here in The Valley that he loved so very much.