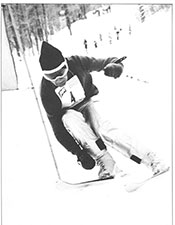 Bernard Pistilli died in Middlebury, Vermont, on January 11, 2023, of complications resulting from a brain injury sustained in a skiing accident. He was 91 years old. He was born in 1931 in Brooklyn, NY, to a first-generation American mother, Anna Rocchi, and an Italian immigrant father, Cosmo.
He attended public schools, including James Madison High School, and worked from a young age as a child of the Great Depression. He enrolled in both Brooklyn College and the University of Michigan but had enlisted in the U.S. Naval Reserve at age 18 and was called to serve a combat tour aboard the USS Lake Champlain in the Korean War.
He returned to Brooklyn to marry his sweetheart, Maureen Warren, and they raised four children: Marianne, David, Jonathan, and Jennifer. Their second-born child, Bernard Paul, lived to only three months old.
Bernie worked in the nascent computer industry for IBM from the mid-1950s to the late 1960s, as well as a series of startup companies through the early 1970s. He eventually settled into a municipal position with the NYC Department of Finance, retiring from that in the mid-1990s to pursue his skiing avocation nearly full-time.
He became a reverse snowbird, overwintering in Vermont and summering in Brooklyn. His family takes solace in the knowledge that he was doing what he loved when he suffered his injury. He is predeceased by his parents, his younger sister, Virginia, and his wife. He is survived by his older sister, Angela, his children, and their children. He was buried in Long Island National Cemetery alongside Maureen and their first-born son. The family wishes to thank the Sugarbush Ski Patrol, the Mad River Valley Ambulance Service, the Central Vermont Medical Center, the University of Vermont Medical Center, Middlebury Regional EMS, Helen Porter Rehabilitation & Nursing, Addison County Home Health & Hospice, and Sanderson Funeral Services for their work to save his life and care for him in his final weeks and days.