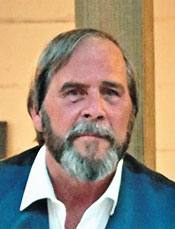 Glenn F. LaVanway, 64, of Waitsfield, passed away on Sunday April 16, 2023, at the University of Vermont Medical Center in Burlington. Born in Del Rio, Texas, on April 3, 1959, he was the son of the late Albert LaVanway Jr. and Zelda (Hartshorn) LaVanway of North Fayston. He was previously married to Glyn Stuehler.
Glenn was a 1978 graduate of Harwood Union High School in Duxbury, where he was a state champion wrestler. After graduation he went to work in the construction industry as a carpenter. He worked in Virginia and Washington, DC, area and later moved to Homestead, Florida. In the early 2000s he moved back to the Mad River Valley.
Glenn enjoyed the outdoors and walking in the woods looking for unique pieces of wood, he was mechanically inclined and loved to work with vehicles that are designed for mudding. He also enjoyed shopping at local flea markets for hidden treasures.
Glenn is survived by his mother, Zelda LaVanway, of North Fayston; his daughter Kristie Cline and her husband, James, of Jacksonville, FL; a sister Darleen LaVanway of Orlando, FL; four brothers, Maurice LaVanway and his wife, Barb, of Duxbury, Wendall LaVanway of St. Augustine, FL, Kevin LaVanway and his wife, Paige, of Waterbury, Chris LaVanway and his companion, Myrna, of Orlando, FL; as well as extended family. He was predeceased by a sister Alyce LaVanway and a nephew Matthew LaVanway.
A graveside service in North Fayston Cemetery to celebrate the life of Glenn F. LaVanway will be held at a later date. For those who wish, memorial gifts would be appreciated to the Mad River Valley Ambulance Service, visit them at mrvas.org, or P.O. Box 305, 4177 Main Street, Waitsfield, VT 05673. To send online condolences, visit www.perkinsparker.com.