April 16, 1935 - March 28, 2022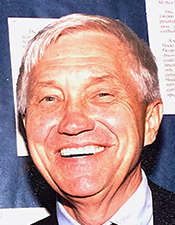 Robert (Bob) Frank Dawson died of complications from Parkinson's disease and COVID-19 on March 28, 2022, after a wonderful, long life. His death was followed by that of his wife and best friend of 65 years, Marilyn Ruth Jensen Dawson, on February 13, 2023. He is survived by his daughter Carolyn, her husband Breck Campbell, and their daughters Megan, Nancy, and Susan; and his daughter Susan, her husband John Urbanowicz and her son Ryan Dawson-Erdman.
Bob was born in a farmhouse in Vergennes, VT, and lived near the shores of Lake Champlain for the majority of his life, attending both public and Catholic grade schools. He graduated from Burlington High School in 1953 and went on to earn his B.S. from the University of Vermont (UVM) in 1957. He spent the next year serving in the United States Navy, after which he married Marilyn and remained lovingly, respectfully, delightedly devoted to her for the rest of his life. He then went on to earn an M.S. degree from Cornell and another from Yale, followed by a Ph.D. from Purdue.
Bob excelled in the realm of academic and applied engineering, math, and computer science. He was a well-respected professor of both Civil Engineering and Computer Science at UVM, authoring papers and receiving high marks from students. Additionally, he consulted on a variety of projects at the intersection of these fields, providing expert testimony in civil cases and registering patents in process controls.
While countless people appreciated his intelligence, his family and close friends admired his constant activity and self-sufficiency -- running countless miles everywhere he lived, maintaining the roads on Coates Island, building a home in Wolcott, VT, and completing a constant stream of DIY home improvement projects.
He maintained space for play and adventure in his purpose-driven life. He and Marilyn enjoyed travel and golf, especially to the Caribbean during long Vermont winters, living 1/2-time in Puerto Rico for many years. He taught his kids to ski and played hooky with them on the slopes. He built towering bonfires with his brother-in-law on the Fourth of July and operated earth-moving equipment (with grandkids and adult kids) when the Hinesburg Sand and Gravel plant was idle.
Bob Dawson was a kind and patient man. A great listener and constant thinker, he was quietly present and available to family, friends and students who sought his support.
Bob is also survived by his brothers Larry Dawson, Philip Dawson and David Dawson and his sister LeAnne Storch. He was predeceased by his brother Richard Dawson.
A memorial service for both Bob and Marilyn is planned for June 10 in Burlington, VT. For information, please contact This email address is being protected from spambots. You need JavaScript enabled to view it.. In lieu of flowers, the family requests donations to the University of Vermont Foundation (uvmfoundation.org), The Davis Phinney Foundation (www.Davisphinneyfoundation.org) or Stanford Senior Care (https://give.stanford.edu/stanford-medicine/?olc=6421).