February 11, 1936 - February 13, 2023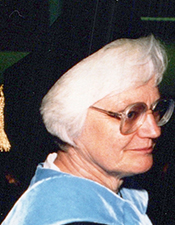 Marilyn Ruth Jensen Dawson died of complications from a broken hip and dementia on February 13, 2023, after a long, full life. She was predeceased by her husband of 65 years, Robert (Bob) Frank Dawson, on March 28, 2022. Marilyn and Bob met as school kids, started dating in high school, and remained respectfully and delightedly devoted to each other for the rest of their lives. She is survived by her daughter Carolyn, her husband Breck Campbell, and their daughters Megan, Nancy and Susan; and her daughter Susan, her husband John Urbanowicz and her son Ryan Dawson-Erdman.
As a young child, Marilyn moved with her parents, Albert and Evelyn Jensen and her sister Sally (Hergenrader) from Sioux Falls, SD, to Burlington, VT, where her younger siblings Karen (Mills) and William (Bill) Jensen were born. Marilyn graduated from Burlington HIgh School in 1954, then earned her B.A. from the University of Vermont (UVM), her M.A. from the University of Connecticut and after her daughters were grown she returned to UVM for her Ed.D.
Despite decades of sampling various climates (Loquillo, Puerto Rico; Venice Beach, FL; Boulder, CO; Palo Alto, CA), Marilyn and Bob maintained Vermont as their home in their hearts their entire lives, especially their summer camp on Coates Island on Lake Champlain and many years on Brewer Parkway in South Burlington.
Marilyn led quietly, through example and with competence, throughout her life. She returned to work in the early 1970s, teaching in the business department at Burlington High School (BHS) and then became head of the department. In 1983, Champlain College sought her out to lead and grow the Office Administration division. During these same years Marilyn was a constant supportive presence for many teens, as the teacher-sponsor of the BHS Business Club, and one-half of the unofficial yet widely recognized 'team parents' for the constant cycle of cross-country, ski, and track seasons.
She and Bob hosted many Christmas and Thanksgiving celebrations on Brewer Parkway and family reunions on Coates Island. For more than 10 years they corralled and entertained their four grandchildren for most of the summer at the lake, with sailing, swimming and wakeboarding, lessons in golf, knitting and table manners, and building things like rafts and radio-controlled boats.
Marilyn loved to read, especially English murder mysteries, accompanied by a bowl of peanut M&M's or a glass of white wine. She looked forward to taking a picnic to the Vermont Mozart Festival, taking daily walks with Bob and playing bridge with her monthly club. She loved to go out to breakfast on weekends, and more frequently after retiring. She thoroughly enjoyed installing baskets of impatiens on the porches every summer, knitting Icelandic wool sweaters when the weather turned colder and providing a handknit hat for each baby who came along.
A memorial service for both Marilyn and Bob is being planned for June 10 in Burlington. For information, please contact This email address is being protected from spambots. You need JavaScript enabled to view it.. In lieu of flowers, the family requests donations to the University of Vermont Foundation (uvmfoundation.org), The Davis Phinney Foundation (www.Davisphinneyfoundation.org), or Stanford Senior Care (https://give.stanford.edu/stanford-medicine/?olc=06421).