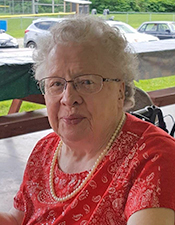 On April 14, 2023, Shirley Bragg, 96, of Burlington went to be with her Lord and Savior. Shirley had been a resident at Cathedral Square in Burlington for many years.
She was born on December 4, 1927, to Hazel Cook Bragg and Merritt Bragg of Waitsfield. Shirley grew up in Waitsfield and later studied at UVM for a year and thereafter on to the Brookline School of Theology in Brookline, Massachusetts. After graduating from theological school, Shirley decided to go to China as a missionary where she was evacuated back to Vermont because of political unrest. After enrolling in the nursing program at Mary Fletcher Hospital, she became a registered nurse for three years. She then traveled to Japan where she was a missionary for several years. She returned to America where she served as a registered nurse in Live Oak, Florida, for seven years. After two decades of nursing at Mary Fletcher Hospital, she retired at 61.
In addition to her parents, Shirley was predeceased by her sisters and brothers, Katherine Johnson of Waitsfield, Ruth Janes of Georgia, and Robert (Bob)Bragg of East Montpelier. She is survived by her sister-in-law Virginia (Jinny) Bragg of East Montpelier and many nieces, nephews and cousins who will greatly miss her. She will be remembered for her deep faith in her Lord and Savior and for her sweet, loving spirit. Shirley loved to play the piano and often played at events at Cathedral Square. She also enjoyed jigsaw puzzles, playing games and was an avid reader. A Celebration of Life will take place on Monday, August 14, 2023, at 1 p.m. in the Warren Cemetery, Warren, VT.
Arrangements by Elmwood-Meunier Funeral Home, Burlington.