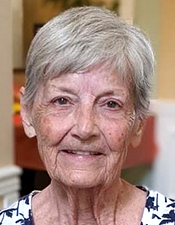 Barbara Wright, a long-time resident of Saint James City on Pine Island, Florida, passed away on May 17, 2023. She was 85.
She was born Barbara Brown and grew up in a picturesque area near Lake Kezar, Maine, where her parents ran a hunting and fishing camp for tourists. She had an older brother, Ben, who is deceased. Her childhood taught her the traditional Maine values of diligence, hard work, and self-reliance, needed to live in a rural area. Once, she recalled, she was chased home from school by a bear.
As there were no public high schools near her home, she was sent to Fryeburg Academy, a boarding school in Maine.
She graduated from the University of Bridgeport in Connecticut. For room and board while she was a student, she lived with a wealthy family and took care of their children as an au pair.
Barbara lived and worked in New York City for many years. She was an administrative supervisor at the Young & Rubicam advertising agency in midtown Manhattan.
She often stopped for breakfast at a coffee shop on Madison Avenue. Her future husband, Curtis Wright, worked for nearby Johns Manville, and frequented the same coffee shop. Co-workers introduced them. They soon began to date. In the wintertime, this often meant spending weekends in the Waitsfield area of Vermont, where Curtis had built a log home with his own hands. During the summer, they often weekended at a beach house in Southampton, Long Island.
By 1973, Curtis had left his job to build a second, larger house in Vermont, and Barbara soon joined him. They were married in an outdoor ceremony at the Sugarbush Inn, and devoted their time to finishing their new home.
For the next quarter century, they enjoyed a rich life in Vermont. They were well known in the community. Curtis ran an antique shop for a while, and also owned a popular flea market, where he rented spots to flea market vendors. Barbara worked in real estate, supervising sales and rentals. For a number of years, they owned and ran a telephone answering service, handling phone messages and, sometimes, emergency calls throughout the Mad River and Sugarbush Valley. This required long hours and a conscientious devotion, which Barbara had learned as a child. They also were active in the Valley Players Theater productions, which brought them many years of enjoyment.
At the turn of the century, Barbara and Curtis began an extensive, years-long search for a Florida home. They sold their Vermont properties and moved to Pine Island, where they had an idyllic house on a canal, with a motorboat on a davit next to the water. There, they made a large circle of friends.
Curtis died in 2016, and Barbara stayed in their house, which they both had loved. She also adopted Nika, a beautiful cat, to keep her company. In the fall of 2022, Hurricane Ian flooded the house, and Barbara and Nika moved to an assisted living facility in Cape Coral. There she made many friends and was loved by both the staff and many of the other residents.
Barbara left no surviving relatives, but survives in the memories of countless friends. If you would care to make a donation in her memory, we suggest making same to Helping Paws Animal Sanctuary, 10060 Mallory E. Parkway, Saint James City, FL 33956.