Theron Thomas Colby
April 5, 1935 – September 7, 2023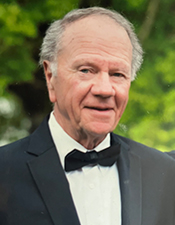 It is with much sadness that we share the news that longtime Warren resident Theron Thomas "Tom" Colby passed away peacefully at The Arbors senior living community in Shelburne, Vermont, on Thursday, September 7, 2023.
The son of Edna and Theron H. Colby, Tom was born on April 5, 1935, and raised in Syracuse, NY. From an early age, he spent his summers at his family's camp on nearby Lake Skaneateles where he enjoyed fishing, playing tennis, and developing a lifelong passion for golf. As a child in the 1940s he also began skiing. Tom attended the Kent School in Kent, Connecticut, and became the captain of their ski racing team. He graduated in 1954.
Tom earned his undergraduate degree at Dartmouth College in Hanover, New Hampshire, majoring in English Literature, and graduated in 1958. He was a season ticket holder and enjoyed tailgating at their home football games for many years. While attending Dartmouth Tom regularly took weekend road trips to ski in the Mad River Valley.
From 1958 to 1961 Tom was enlisted in the United States Navy. He served as a navigator aboard the Sixth Fleet bunker ship Aucilla in the beautiful home port of Barcelona, Spain. He always enjoyed telling stories about his crew's fun Mediterranean adventures -- both on and off the water.
Tom graduated from the Syracuse University Law School in 1965 and instead of immediately practicing law, he accepted a job offer from the legal research and publishing firm West Publishing. This was the beginning of a successful decades-long career and Tom retired from the company after it was acquired by Thomson Reuters in 1996.
During the 1960s and 1970s, Tom continued to visit the Mad River Valley frequently to ski, play golf, and enjoy nature. After building a ski home in East Warren, he befriended countless locals to truly become part of the Mad River Valley community. In the mid-70s Tom met Warren resident Nancy Aske, and they were married in 1976. Tom also became a stepfather to her three children Wendy, Karen, and Eric. Tom and Nancy cherished their wide and ever-expanding circle of fun and interesting friends and family for many decades.
Tom was a calm and quiet soul with a wry sense of humor, who enjoyed working on his land, reading historical fiction, watching his beloved New York Yankees, skiing and golfing, and spending time with his family and closest friends. He never raised his voice or had an unkind word for anyone. He was a parent, grandparent and great-grandparent who quietly and consistently exemplified the virtues of hard work, modesty, fairness, and generosity. He will be dearly missed by all who knew and loved him.
Tom is predeceased by his wife Nancy (Aske) McBride Colby (2020) and survived by his step-children Susan "Wendy" (Aske) Brauer of Warren, Vermont, Karen (Aske) and husband Tim Simmons of Norfolk, United Kingdom, Eric Aske and wife Sara-Inés (Fariña von Buchwald) of Boston, Massachusetts; grandchildren Lauren (Tompkin) and husband Crawford Appleby of Warren, Vermont, Charles Tompkin and wife Natasha Baranow of Shelburne, Vermont, Charlotte (Simmons) and husband Dr. Peter Reynolds of Kendal, United Kingdom, Ellen (Simmons) and husband Philipp Hamann of Norfolk United Kingdom, William Simmons of London, United Kingdom, Magnus Aske of Newport Beach, California; great-grandchildren Ruby and Isla Hamann, Oscar Reynolds and William, Iris and Edie Appleby.
The family will be celebrating his life privately and contributions in his name can be made to the Mad River Valley Community Fund (www.mrvcommunityfund.org) or the Mad River Valley Ambulance Service (www.mrvas.org).