Arthur Dayton Trezise
June 11, 1928 – August 31, 2023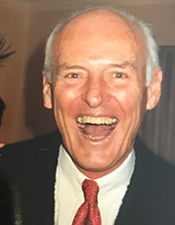 Arthur "Artie" Dayton Trezise was born to Arthur Alleyne Trezise and Marie Francis Dayton in Long Island, New York, in the town of St. Albans, back when the streets were unpaved, and coal was delivered by horse-drawn carriage. He grew up in Long Island and attended Columbia College in New York, graduating in 1950, and then served in the U.S. Army being stationed in Germany. Upon his return to the U.S., Artie began his professional career, working for various companies with overseas interests in Spain, Panama, and Venezuela. In 1963, the American Can Company relocated him to Brazil where he met his wife, Maria Lucia "Puzas." They had three children: Bridie, Arthur, and Patrick. He remained in Brazil until 1983, when the family moved to Vermont, while he pursued a career with the U.S. Foreign Service.
Artie was hired by the U.S. Department of Commerce, and the family relocated back to Brazil for several years. In 1990, his work moved him to the U.S. Embassy in Colombia and later to the U.S. Embassy in Paris. After retiring, he split his time primarily between Waitsfield, Vermont, and São Paulo, Brazil, most recently living by his daughter in Minneapolis. Artie is preceded in death by his wife, Maria Lucia Trezise, and survived by his daughter Bridie (Steve), sons Art and Patrick (Silvia), grandsons Will, Ben and Wyatt, and granddaughters Clara and Macy.
While those are the specs, the true story is more contoured. Artie was an extraordinary person, with a colorful life full of family, friends, and adventures (misadventures) near and far. A guy from the Greatest Generation. He spoke four languages, wrote shorthand, drank martinis, danced well, could handle a violin and flute, was an avid reader, letter writer, bridge-player, and snazzy dresser. Swam in speedos right up until his death. Ya. He loved his extended Brazilian family and Brazil -- he was a single child while his wife was one of 12 kids; the huge Brazilian family fully embraced him as their own. Not one to be told what to do, Artie went rogue (again) and, at 95, booked a solo flight to Brazil and after encountering medical complications, passed away in São Paulo, surrounded by the Brazilian family whom he loved. He was one of a kind.