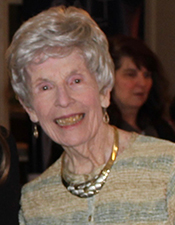 Lois Ward Tierney, 95, died Wednesday, Nov 1, 2023, at Cornerstone at Hampton. Lois was born November 30, 1927, in Montpelier, Vermont, during the Great Flood of that year. She was the daughter of the late Merlin B. and Aline (Hollopeter) Ward of Moretown, Vermont. Lois always loved her Vermont heritage: the Ward family history, the beauty of the land, and the maple syrup.
Lois graduated from Northfield School for Girls in Northfield, MA, and then received her Bachelor of Fine Arts with a Voice Major from Syracuse University, Syracuse, NY, where she met her husband, Robert Arthur Tierney.
Lois dedicated her life to her family. When Bob's career as an engineer for General Electric designing guidance systems for NASA space missions required relocating the family (often!), Lois packed up the house and children and created a new home with love, humor, and New England grit. She successfully settled their "gang" of five children eight times across the United States, from Mississippi to California to New York to Florida to Alabama, with a much-loved two years in the Hague, Netherlands. They eventually lived in Dallas, TX, for 20 years where Lois took up tennis and became quite an accomplished player. As the children grew older, Lois took on some new jobs. Her keen eye for visual arts led her to work with a buyer for an interior design company. Her love of education and her accounting skills led her to be an administrative assistant for Akiba Academy.
Lois and Bob moved to Seacoast, New Hampshire, in 1987. Lois loved being part of the Newcomers Club, Hampton Library Book Club, and she volunteered as a docent with the Seacoast Science Center. There, Lois and Bob especially loved summers when everyone visited and went to the beach. Listening to music was an integral part of the Tierney family. Family get-togethers always resulted in some sort of musical sharing. Lois especially loved beautiful choral music and listened to the University of Notre Dame chorale every week.
Lois was predeceased by her husband of 62 years; Bob passed away in 2012. She is survived by her children: two daughters, Elizabeth Tierney Roberts (Exeter, NH), Janet Tierney Sorrentino (Betterton, MD), and three sons, Peter R. and Joni Tierney(Kingston, NH), Robert A. and Anne Tierney (Plano, TX), Mark W. and Kellie Tierney (Granbury, TX); 10 grandchildren, Claire Tierney Vadney, Elizabeth (Jo) Sorrentino, Christine Sorrentino, Dustin Tierney, Megan Tierney, Sam Tierney, Nicholas Tierney, Devan Tierney, Austin Tierney and Gabriel Tierney; and nine great-grandchildren.
A private family service will be held at Remick & Gendron Funeral Home-Crematory, 811 Lafayette Rd, Hampton. In lieu of flowers, memorial donations may be made to the University of Notre Dame Chorale by visiting https://giving.nd.edu/ or by calling 574-631-5150