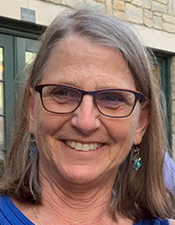 Eleanore "Boo" Carpenter died peacefully at her home in South Burlington, Vermont, on October 27, 2023, surrounded by family after a short battle with pancreatic cancer.
Boo was born February 2, 1954, in Auburn, New York, the daughter of Jean and Charles Underwood. She graduated from Auburn High School and from the State University of New York at Plattsburgh and the Upstate Medical Center with a Bachelor of Science in Medical Technology in 1976.
In 1981 she married Mark Sinclair. After living and working in several parts of the country, Boo and Mark settled in Waitsfield, Vermont, where they raised their two sons, but later divorced.
Boo worked in a variety of places across the country including Vermont, California, Arizona, New Mexico, and New York. As a medical technologist, she worked at a number of hospitals and clinics, large and small. While doing it all, she especially loved "blood banking." She retired from her career at the UVMMC in 2020, after more than 30 years there. She received the Mary E. Breen award for teaching undergraduate students. She was also honored as one of the Medical Center's "Faces" for her service to patients, the Lab and the Medical Center. While working Boo was a volunteer at Hope Lodge.
Boo embraced the outdoors as she leaned into life with a quiet strength, determination, resilience, and positivity. She especially loved to hike, cross-country and alpine ski, bike, paddle, swim, sail and play pickleball. She also liked mah jong, a voracious game of cards and solitaire, reading, dancing, travel and yes, enjoying a glass of Jameson at a roadside or ski bar. Boo often paused to enjoy a sunset, the nightly moon, mountain and lake views, trillium and music. This spring Boo completed another of her many adventures, backpacking down into, then white water rafting, hiking, and camping in the Grand Canyon.
As a two-time survivor of breast cancer, Boo was a proud and devoted member of Dragonheart Vermont. She successfully dragonboat paddled with her breast cancer survivor "sisters' ' team to national championships, including this July in Florida. Her team also competed internationally. Boo was also on a team that won the first ever Ice Dragon Boat World Championship in Ottawa.
Boo cherished her family cottage located on Owasco Lake. While she loved her adopted state of Vermont, "Long Point" was a special touch-stone. She revered her time there with her family and friends, including her beloved cousins, nieces, nephews, their children, her sister and brother-in-law, along with her golden retrievers.
Boo is predeceased by her mother, Jean Underwood Marshall, her father, Charles Underwood, her stepfather, Richard Marshall and her brother, Chuck Underwood. She is survived by her close sister, Sali Hazard (and Joe), her brother David Underwood (and Kathaleen), her sons, Beck Sinclair (and partner Allie Kaye) and David Sinclair (and partner Isabel Caldwell) and her husband, Chris Carpenter.
Chris and Boo felt very lucky to have met each other later in life through dragonboat paddling. They especially enjoyed traveling, their lakes, skiing, gravel biking, hiking, pickleball, kayaking, backcountry skiing into huts, cribbage, watching the nightly news, dancing in the kitchen and playing with Chris's grandchildren. They were married at Lake Mansfield on August 13, 2022.
Boo also leaves behind her special cousins, nieces, nephews, their children, stepbrothers and sister, as well as many valued friends with whom she kept in touch. Her friends included those from her childhood and the Auburn, NY, schools where she grew up, her Dragonheart "sisters, her laboratory colleagues; good friends from Huntington and the Mad River Valley where she lived for 20-plus years, her "amigos," as she called three close friends, as well as her newer pickleball friends and those at Vermont Adaptive Ski and Sports where she volunteered.
In lieu of flowers contributions can be made in Boo's memory to either Dragonheart Vermont or Vermont Adaptive Ski and Sports.
A celebration of Boo's life will be held on Saturday, November 25, 2023, at 1 p.m. at the All Souls Interfaith Gathering, 291 Bostwick Farm Road, Shelburne, Vermont. Arrangements are in care of Corbin and Palmer Funeral and Cremation Service. To send online condolences to her family visit www.vtfuneralhomes.com