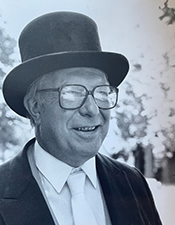 Peter K. Gunness was born on July 6, 1935, in Bismarck, North Dakota. He died on November 1, 2023, surrounded by his family in hospice care at Emerson Hospital in Concord, Massachusetts, following a stroke. He was 88.
The youngest of four children, Peter was born to parents Clarence Gunness and Florence Larson Gunness. Both parents spoke their native languages, Norwegian and Swedish, respectively, in the home but insisted their children speak English. From Bismark, the family moved to Grand Forks and then to Fargo, North Dakota, as Clarence pursued his career in the telephone industry. Peter graduated with the 1953 class at Fargo High School, where he excelled academically, sang in the chorus, and was active in sports (football, basketball, and baseball).
In September 1953, Peter and his best friend Judd Blain boarded a train in Fargo bound for Cambridge, Massachusetts, where they would matriculate, sight unseen, at Harvard College class of 1957. After graduating from Harvard with a degree in history, Peter was hired to work in Harvard's Financial Aid and Admission offices. He earned his MA from Harvard School of Education in 1969. In 1969 Peter left his director of financial aid role to become headmaster of the Browne & Nichols (B&N) School in Cambridge.
In 1974, Peter oversaw the merger of B&N, a private boys' day school, with the nearby all-girls' Buckingham School to create BB&N, where he remained as headmaster until 1992. After retiring from BB&N, he, along with several of his peers, went on to found Educators Collaborative, an executive search and consulting firm for secondary schools. He continued to lead and consult on searches into the mid 2010s when he retired.
Peter was married to Margaret (Peggy) Gunness. As they liked to say, they met in 1960, married in 1962, and had babies in 1964, 1965, and 1966. Peggy predeceased Peter in 2017, shortly after their 55th wedding anniversary.
Peter and Peggy moved to the Newbury Court retirement community in 2013. While at Newbury court, Peter was an engaged resident in many different resident groups. He was a wise and respected leader of the Scholarship Committee, providing financial aid to Newbury Court staff members to further their education. As a recipient of a college scholarship himself, working with this committee brought him great fulfillment. Peter made many new friends over the years at Newbury Court who became very important to him, including his new love for his last four years, Katharine Esty.
Peter remained intellectually curious, sharp, and engaged until the very end. He maintained close relationships with each of his children and grandchildren, serving as a steadfast and loving listener, advisor, and mentor to them all. He was a great lover of books, music, the outdoors, sports, debates, and family gatherings. He instilled a love of the outdoors in his children by taking the family on numerous camping trips throughout New England. He was also an avid fly fisherman and took several guided fishing tours throughout the American West, Northeast, Alaska, and abroad in Patagonia. He also loved to sing, as a member of the choir in churches such as Christ Church Cambridge and Christ Church in Ridgewood, New Jersey, (where his wife Peggy served as Rector), and also as a member of the Concord Chorus for many years. He was a 50-year, much beloved member of the Tavern Club where he was an integral part of two musical groups, the Diminished Fifths and the Meister Singers. In the final years of his life, he continued to sing in choral and chamber groups at Newbury Court and he also found joy in visual artmaking and meditation. A child of North Dakota's wide-open spaces, Peter always sought big skies and distant horizons.
Peter is survived by his three children, Peder "Per" Knut Gunness (wife Barbara Gunness) of Pray, Montana, Eric Larson Gunness (wife Liana Cassar) of Barrington, Rhode Island, and Katherine "Kate" Gunness Williams (husband Robert Williams) of Waitsfield, Vermont; grandchildren Jamie and Maria Gunness, and Anneka and Theron Williams. He is also survived by his unofficially adopted son, Scott Collins (wife, Shaela Collins), and their children, Frances and Ferris.
In lieu of flowers, donations can be made to the Newbury Court Staff Scholarship at https://newburycourt.org/donate/ or Newbury Court, 80 Deaconess Road, Concord, MA 01742.
A memorial service will be held at 2 p.m. on December 17 at Duvall Chapel at Newbury Court, 80 Deaconess Road, Concord, MA.