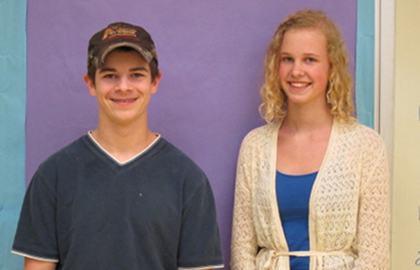 HUMS eighth-grade representatives David Howes and Anna Van Dine
On Friday, May 11, Harwood eighth-graders David Howes and Anna Van Dine represented their classmates at the opening reception of the Vermont Folklife Center's (VFC) Showcase of Documentary Work by Youth and At-Risk Populations.
The opening featured a screening of selected media, including the HUMS eighth-grade Irene documentary project, with the producers present. The 2011 Irene documentary project was conducted last fall and culminated with a public premiere in March. Van Dine and Howes, accompanied by social studies teacher Sarah Ibson and language arts teacher Jacki McCarty, showed one of their five documentaries to a packed gallery of spectators. The students then fielded questions from the audience about the project's inception, the process and about their involvement; Howes was the primary student film editor and Van Dine contributed to many aspects of the project including designing and creating the poster to announce the Irene documentary premiere.
"I thought it was nice to see all of the projects that the Vermont Folklife Center supports all around the state," Van Dine reflected on the evening. "The other presentations we saw gave me some interesting ideas about what could be done for future projects, and let me compare what we did to what others did. I saw different styles of presentations and realized that it is possible to go a whole step further with ethnography than we did."
The menagerie of exceptional projects and presenters at the opening reception included several Harwood Union High School students who were invited to present their "Stories of Hope" brought back from their recent travels in Rwanda. The students, accompanied by their teacher Steve Rand, presented documentary projects featuring the stories of Rwandans about life in the wake of the country's genocide. The student narrators in the films provided insights, shared epiphanies, and made keen observations as they described their time in Rwanda this past February.
VFC's Showcase of Documentary Work by Youth and At-Risk Populations features over 100 documentary media works produced in the last nine months by K-12 students and at-risk populations around the state. Completed during classes and after-school programs at schools and nonprofit organizations, other featured projects include additional documentary films and photography produced by high school students and a handmade book and audio recordings created by elementary school students.
As VFC media instructor and exhibit curator Scott Miller observed, "This is an exciting time in history to be teaching documentary media workshops – recording technology has become accessible, ushering in an age of democracy in terms of whose stories are told and who does the telling. We are all richer as an audience learning from the expanding archive of human experiences recorded with creativity and honesty. Working with this diverse group of Vermonters over the past nine months has been a humbling experience."
Also included in the ongoing exhibit are a series of films produced by adults with disabilities, a mixture of written, photographic and filmic work produced by adults who reside in a homeless shelter, and memoirs with photographic illustration produced by young mothers. The exhibit showcases each of their accomplishments, with an opportunity for visitors to view the work and to meet the young people behind the projects. The projects, including the HUMS Irene documentaries, will be on display in the Vision and Voice Documentary Workspace at the Vermont Folklife Center in Middlebury from May 11 to June 9, 2012.
{loadnavigation}