Troy Kingsbury's Street Stock race car, nicknamed the Green Lantern, has been making the rounds at elementary schools in the Mad River Valley and beyond as part of a new program called Race to Read, which uses the flashy and exciting sport of car racing to create hype for a less visually stunning but equally exciting sport—reading.
Kingsbury, who owns The Village Grocery in Waitsfield, first heard of Race to Read when its creator Tyler Jordan, a 15-year-old from North Carolina, entered it into a video contest.
"What a great idea for someone that age to come up with," Logan Cooke, media director for Race to Read in The Valley, said when Kingsbury first told him about the new initiative down south. "And it's something we can do here," Cooke said.
---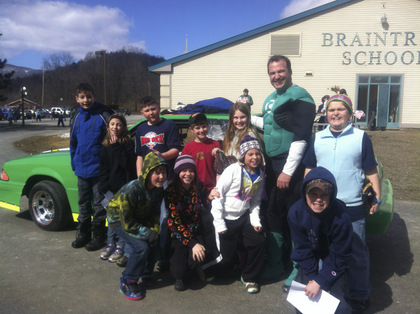 ---
Kingsbury and his team have since visited eight elementary schools in and around The Valley (including those as far away as Braintree Elementary School) to publicize the Race to Read program they developed for the region.
Race to Read asks students to read 15 books in their free time, and in exchange they get to sign the hood of Kingsbury's race car. "As motivation, we actually bring the car to the schools," Cooke explained. "Once we made that physical connection with the kids they became more interested."
Kingsbury plans his race car entrance to coincide with students' recess time, and he is sure to rev the engine as much as possible. "That idea came from Troy saying, 'If I were a 10-year-old, how would I want a race car showing up at my school?'" Cooke explained, laughing.
So far, Mad River's Race to Read team has collected over 100 signatures on the hood of Kingsbury's car, and they are excited to see students sharing books they've read as part of the program with their friends.
"As more and more new technology comes up, kids are going to start losing incentive to want to read," Cooke explained, stating that he has noticed this already in his work as the technical coordinator in a local elementary school. "The key is to have a program to create an incentive (to fight illiteracy)," he said, and that's what the race cars and the revving are for.
"Our biggest goal was to make [Race to Read] a program that kids would want to do but that wouldn't make a lot of extra work for the teacher," Cooke said, and now Race to Read is expanding independent of schools, as children who demonstrate progress on their Race to Read forms can bring them to Thunder Road SpeedBowl in Barre and be entered into a raffle to win even more prizes.
"The goal is to keep a lot of kids trying every week, reading one or two books," Cooke said.
Children and their families can find out more information about Race to Read and download forms to participate in the program at their website: racetoread.org.
{loadnavigation}